Pusheen Partners with Freedom Confectionery for World-First Choc Coated Vegan Gummy Bar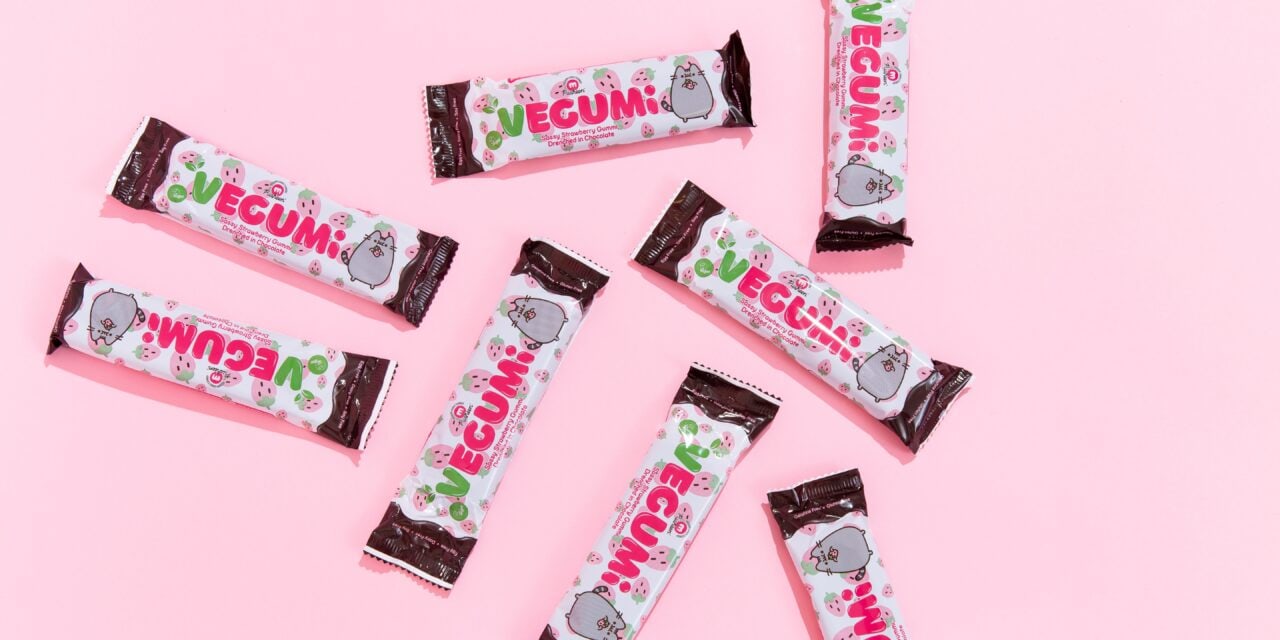 UK based, allergen-free, vegan mallow specialist, Freedom Confectionery, is set to launch the first chocolate coated vegan gummy bar to the confectionery market as part of an exciting brand licensing partnership with Pusheen The Cat.
The partnership will be the first confectionery licensing agreement globally recognised brand, Pusheen™, has made since its inception in 2010.
As the first European manufacturer of gelatine-free marshmallows, Freedom Confectionery, along with its partnership with Pusheen™, is hoping to build on its allergy-free credentials offering vegan, vegetarian, plant-based and non-allergy customers worldwide a deliciously juicy sweet treat, that is completely gelatine-free.
The 54g strawberry flavoured vegan gummy bar, aptly named, Vegumi, will be coated in dairy-free chocolate and wrapped in a designed film featuring the much-loved Pusheen™ The Cat.
For Lancashire based Freedom Confectionery, this partnership provides a fantastic opportunity to reach a whole new audience and further cement its position within the allergy-free, vegan, vegetarian, and plant-based market.
Elvin Willgrass, sales director at Freedom Confectionery said: "After being in the business for five years, this is by far the most exciting launch Freedom Confectionery has been a part of. To have a brand licensing partnership with Pusheen™ is an amazing opportunity and I can't wait to hear what our customers think of it."
"Not only does Vegumi taste amazing, but it's also approved by The Vegan Society and is free from the top allergens. As a business, we believe in 100% allergy-free, no product leaves our factory without being thoroughly tested and packaged accordingly and we're delighted that Pusheen™ want to be part of our business journey."