POpey and Angry Birds Team for Ocean Conservation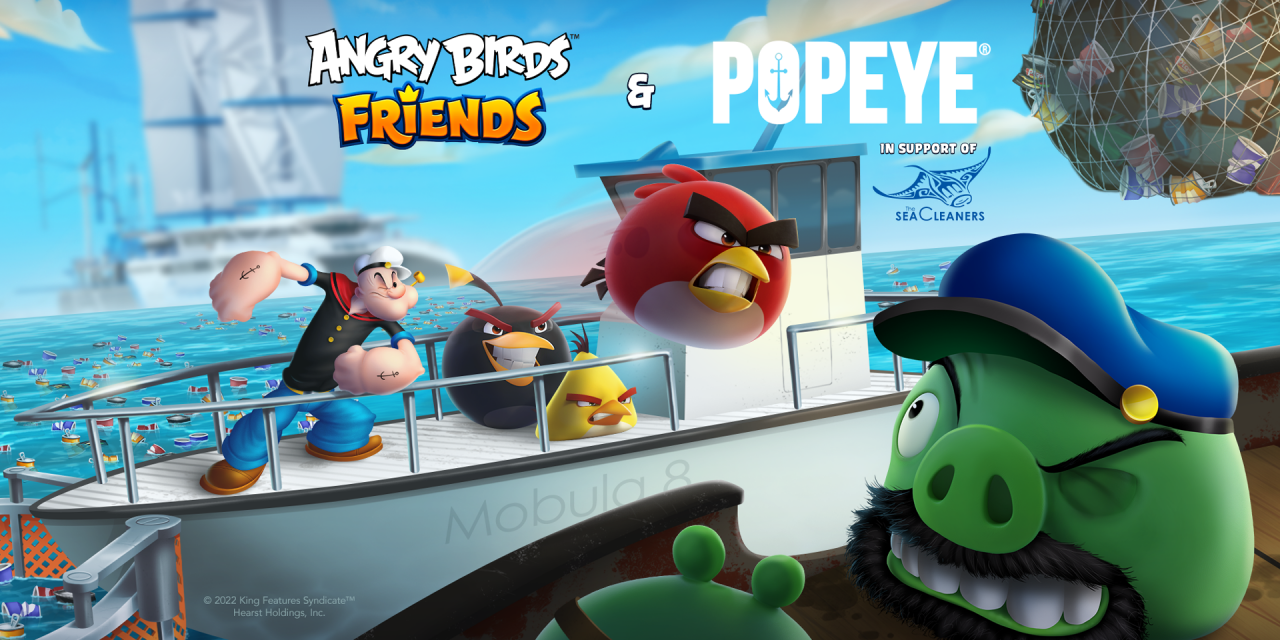 Popeye the Sailorman and video game developer Rovio Entertainment today announced a partnership for an all-new, co-branded Angry Birds Friends x Popeye tournament in support of ocean clean-up organization, The SeaCleaners. Running from January 31 to February 6, the tournament contains 24 Popeye-themed levels of competition alongside in-game ocean conservation messaging from The SeaCleaners. 
Throughout the seven-day tournament, players will be tasked with stopping Bluto and the piggies from polluting while collecting plastic waste in the game. As players advance through the game, they will learn unique and eye-opening facts about how our oceans are impacted by waste. For example, according to The SeaCleaners, every year between 9 and 12 million tons of plastic waste is tipped into the ocean. To combat this, the organization advises players in the game to avoid single-use plastic by choosing reusable bags and bottles and plastic-free packaging.
"Rovio is delighted to team up with The SeaCleaners and Popeye to do our part for ocean conservation," said Heini Kaihu, chief sustainability officer, Rovio. "Combining compelling games content with this very important message is a meaningful way of impacting our environment. We have a large audience through our games, and if we can contribute to increasing the respect and safety of our planet, we want to take that opportunity. The Angry Birds may be angry, but they want to use their powers for good!"
Additionally, The SeaCleaners will host a giveaway where players will have the chance to win Bird Coins that can be used to purchase items in Angry Birds Friends such as power-ups, Mighty Eagles, avatars and more. For a chance to win, players will be invited to answer four questions about plastic pollution, which can be found on The SeaCleaners' website. Winners will be chosen at random the week after the tournament concludes.
"The fight against plastic pollution is a collective battle," said Yvan Bourgnon, president, The SeaCleaners. "We are extremely proud and grateful to Popeye and Rovio for their commitment. Raising awareness about the dangers that threaten the ocean is part of our mission. What better vehicle for this than Angry Birds Friends, an incredibly popular game around the world? And what better spokesperson than Popeye, a timeless sea hero whose values we share? We feel privileged to be able to count on them!"
"Popeye is thrilled to join Red and the other Angry Birds on their mission to save the ocean from polluting piggies," said Beth Nock, brand marketing director, King Features. "This exciting partnership unites two incredibly popular character brands — providing fans with entertaining game play, while promoting a great cause. The SeaCleaners' ocean clean-up technology is unprecedented, and we are grateful that the Angry Birds have joined forces with Popeye to shine a light on their impactful work."