New 'Meet the Buyers' Party & Fabacus Confirmed as Summer Sponsor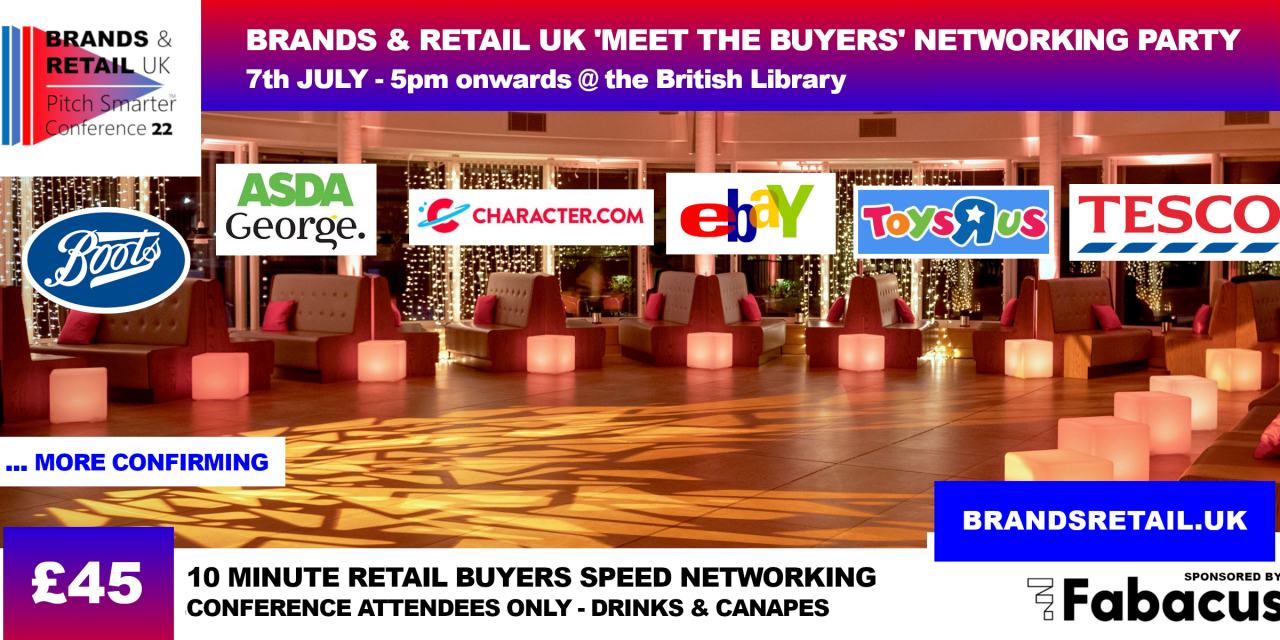 Ryan Beaird, Event Director of Brands & Retail UK, has announced a NEW format for the summer conference taking place at the British Library (London) on Wednesday 6th and Thursday 7th July 22.
The 'Meet the Buyers' Networking party – (sponsored by Fabacus) is a speed networking ticket event closing the conference on Day Two – (5pm onwards – 7th July).
"After many discussions with Retailers it became apparent they want to see as many Licensees and Brands as possible at events, and if their buying teams are small they can struggle to catch-up with everyone. Based on the research we have re-worked the closing party to give Retailers VIP booths in the atrium of the British Library terrace so they can meet the audience in ten-minute informal speed networking meetings. Canapes and drinks will be served to their tables giving them a VIP experience. The Brands taking part and the Licensees that are attending the conference will now get the chance to catch up with major retailers one-to-one… a perfect way to end the summer conference," says Ryan.
Buying teams that have signed up for VIP booths so far include – Tesco, ASDA, Boots, Character.com, ebay and the buying team from Toys"R"Us.
Brands & Retail UK are also delighted to announce Fabacus are again exclusive sponsors of the summer conference.
Andrew Xeni – CEO – Fabacus comments: "After an incredible debut conference this February, Fabacus are delighted to again be sponsoring such an important event in the licensing calendar that brings all parties in the industry together, offering Licensees and Retailers the chance to see upcoming plans of some of the best-known brands in the market. The summit aligns perfectly with our mission to facilitate deeper connectivity, visibility and trust across the value-chain, as we are enabling partnerships to be based on a foundation of accurate master data and insight. We're looking forward to connecting with a number of client partners we're already working alongside, as well as using this opportunity as sponsors to meet new faces to showcase our technology, its benefits, and how we're committed to transforming brand licensing through the power of data."
With only Six unreserved 15-minute pitching slots left for Day One (6th July) for Lifestyle, Commercial, Heritage, Charity and Sports brands…
…and only Three 15-minute pitching slots left for the Character and Gaming brands on Day Two (7th July) – if you are a brand and would like to take part please contact the event director to avoid disappointment – Ryan.Beaird@BrandsRetail.uk
Licensees can book their FREE tickets for the conference and purchase their 'Meet the Buyers' party tickets on the conference website – www.BrandsRetail.uk