New licensees join Toxic Waste Hazardously Sour Candy campaign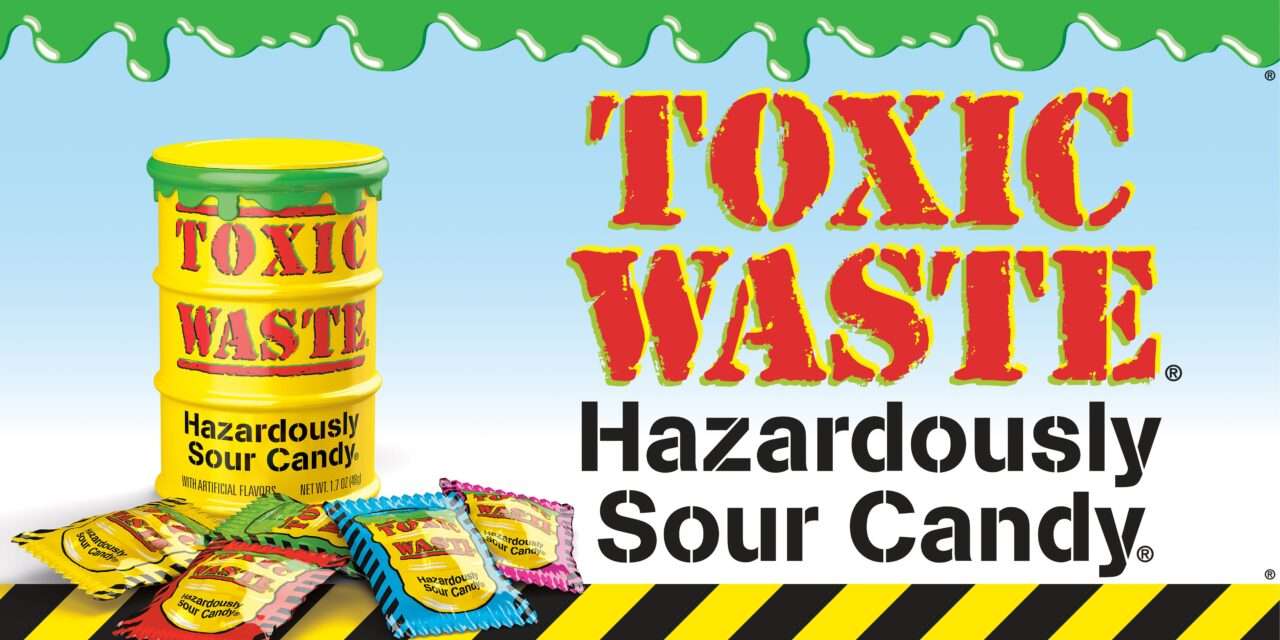 Caroline Mickler Limited (stand A162 at BLE), an award-winning, independent licensing agency which builds licensing programmes for a number of major brands, has announced the signing of two new licenses for Candy Dynamics' wildly popular Toxic Waste Hazardously Sour Candy – a retail hit that is also a fast-growing licensed brand.
CRC Innovations, the branding and licensing arm of wholesaler, distributer, importer and brand owner Southeast Traders, is planning a line of Toxic Waste ice creams ice lollies and drinks, while Heathside Trading, a one-stop distributor for all pop culture product ranges, is to offer Toxic Waste plush, clip-ons and keyrings.
The CRC Innovations line will be wide ranging and will include such Toxic Waste-inspired flavours as Sour Blue Raspberry, Strawberry & Lemon ice cream tubs; Sour Blue Raspberry & Strawberry mixed ice cream cones; Sour Lemon & Apple ice cream screwballs; Sour Lemon & Lime Fusion lollies; Sour Lemon & Apple Spiral lollies; and Slime centre ice lollies in both Sour Lemon & Lime and Blue Raspberry & Strawberry flavours.
The line of canned fizzy drinks will kick off with Sour Blue Raspberry, Sour Apple and Sour Lemon & Lime. Many other lines are also in development.
Both the frozen and the drinks lines will use packaging inspired by the brand's vibrant, bold and distinctive style including the well-known Toxic Waste drum and the Mr Toxie Head character.
The drinks launch is planned for Q1 Jan 2023. The frozen line will roll out in Q2 2023. Both are aimed at a core market of kids aged six to 16, though the enormous popularity of Toxic Waste Sour Candy is likely to attract a large secondary market well above that age.
The Heathside range of Toxic Waste plush, clip-ons and key rings will also take its design inspiration from the bright, vibrant colours of the Toxic Waste drum and the zany Mr Toxie.
Intended for a large target market that includes everyone from six upwards, the range will be available in a wide range of retail outlets, including grocers, toyshops and gift shops, from this autumn.
Toxic Waste Hazardously Sour Candy is a range of super-sour sweets launched in 2001. The brand is owned by Candy Dynamics, Indianapolis, USA, and distributed by Newbridge Confectionery in Europe.
The iconic Toxic Waste Hazardously Sour Candy 42gm Yellow Drum was launched in 2005 in the UK and has since helped the brand establish itself as the number one sour novelty brand in the UK marketplace. The brand is now valued at over £8 million at retail in the UK, offering over 15 day-to day products and a vast array of seasonal products. Toxic Waste is also continuing to grow as a licensed property with target categories including food and beverage, apparel and accessories, health and beauty, and gifts.
Andy Hope, NPD Director, CRC Innovations, says: "As part of our ambitious growth plans, we aim to focus and develop our licensed food proposition across ambient and frozen categories with leading brands – and Toxic Waste Hazardously Sour Candy is a perfect fit. It's unique taste experience and dynamic branding make it very, very popular. We're looking forward to a great consumer response to this partnership."
Darren Epstein, Pop Culture Specialist with Heathside, says: "As a leading name in pop culture-inspired products we were delighted to have the chance to work with Toxic Waste Hazardously Sour Candy. The unmistakeable and distinctive identity of this brand make it perfect for a company like ours that thrives on the style and sheer attitude that make Toxic Waste stand out!"
Caroline Mickler will be at BLE discussing the ongoing development of licensing for Toxic Waste Hazardously Sour Candy along with her company's plans for the coming year at stand A162. She says: "Brilliantly capturing the look and style – and in the case of the ice cream and drinks, the taste! – that have made it so popular, these two new licences are ideal for the Toxic Waste Hazardously Sour Candy brand – a brand that truly stands out at retail."