MOONZY WELCOMES EUROPEAN LICENSEES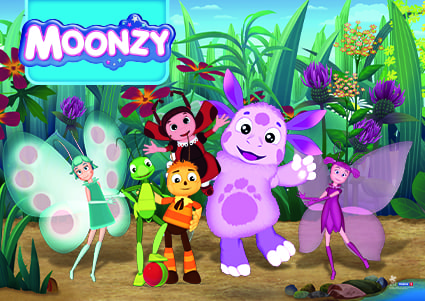 On the 3rd of March 2021  Melnitsa Animation Studio, the Ink Group Puls Kids and Simbat held the Online Summit 2021 with Moonzy Brand Marketing Update for International licensees. During the 1-hour online session, the industry got updates on product lines, new style guide and upcoming premieres.
"Moonzy celebrates its 15th anniversary in Russia, and during this period we have developed more than 5 000 SKU's of different licensing products, our publishing partners sold more than 20 000 000 of books and we have built up a strong partnership with domestic and international partners. We will be glad to share our professional expertise in licensing with our future licensees in Poland. We believe that together we can set a base for a solid and prosperous cooperation, but also build a new enchanting brand in Poland that will be loved by kids for a long period of time," said Elena Berezhkova. Head of licensing, Melnitsa Animation Studio.
Puls Kids on Puls 2 started an exclusive broadcasting of Moonzy in Poland from October 2019, and since then Moonzy has been viewed by over 3.3 million within the target group from 4 to 12 years old. Puls Kids announced the premiere of the new season from the 5th of April 2021 with various marketing activities around it. The representatives of Melnitsa, SIMBAT and Ink Group updated the licensees about the franchise's journey from being both a preschool evergreen in its homeland and conquering new markets internationally with focus on Poland and highlighted the new achievements in Moonzy brand licensing e.g. toys, publishing, apparel and other products. 25 representatives of licensing companies from Europe participated in the online event.
"With such an outspoken international appeal, and important universal topics that every parent would want their child to know about, Moonzy ticks off all the right boxes. And we've seen the success in Poland where Moonzy is currently airing on Puls Kids, the leading children's TV channel in Poland, and there's no doubt that the littlest ones would find Moonzy soothing and entertaining, so we have a strong belief in Moonzy as the next preschool hero, taking its first steps into Europe right now in Poland," said Tina Zacho Alexandersen, Global Licensing Executive, the Ink Group.