MONOPOLY Heads into Black Friday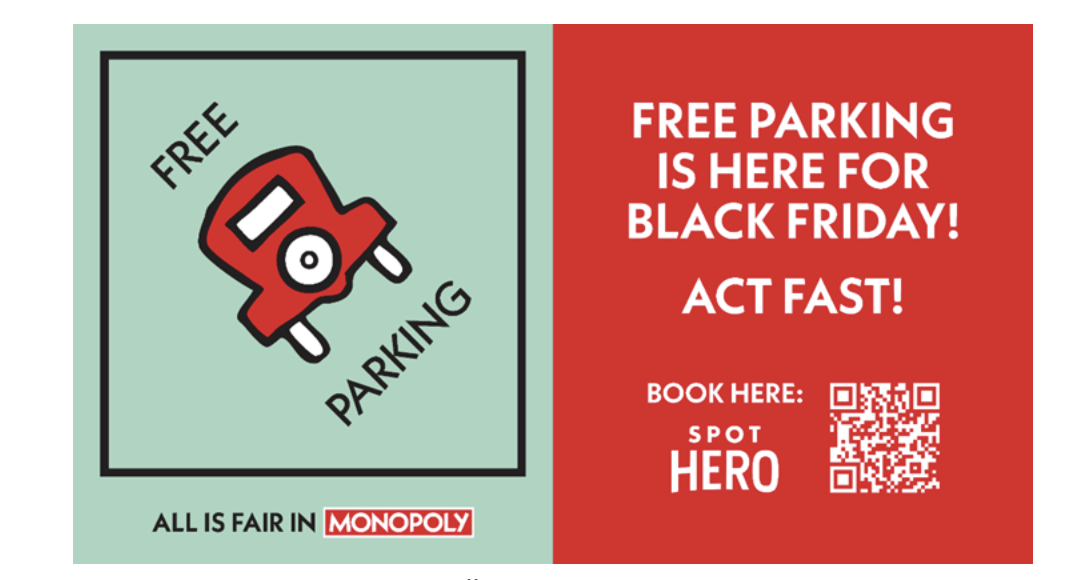 All is Fair in MONOPOLY – the leading toy and game company is getting into the holiday spirit by partnering with SpotHero to offer over 1,000 FREE PARKING spots for Black Friday shoppers in five metropolitan US cities on Friday, November 24.
In addition to the city specific, MONOPOLY FREE PARKING coupons, MONOPOLY and SpotHero will be offering a 10% off coupon to new and existing SpotHero users that can be used nationwide. The information for this coupon code can be found below:
City not on the board? Collect your discount.
Don't let parking break the bank! We have a limited number of promo codes available for 10% off your next SpotHero reservation**, with SpotHero promo code: MONOPOLY10
How it works:
· Valid for new and existing SpotHero users
· Valid at 9,000 locations across the U.S. and Canada
· Excludes monthly reservations and SpotHero for Business reservations
· 10% off parking up to $5
· Valid from 11/13/23 – 12/24/23 or while supplies last
· Get started at spothero.com or on the SpotHero app
FREE PARKING LOCATIONS:
· New York City (50 W. 44th St.) – 100 parking spots available
· Los Angeles (100 N la Cienega Blvd.) – 400 parking spots available
· Chicago (50 E. Ohio St, 10 E Grand St.) – 100 parking spots available
· Philadelphia (1815 Cherry St.) – 100 parking spots available
· Seattle (1201 3rd St.) – 400 parking spots available
HOW TO PARTICIPATE: Participants can learn more about the MONOPOLY FREE PARKING and discounted parking at spothero.com/about/monopoly starting November 13. Bookings for free parking will be available on November 20 on the same URL.
Find Parking: Select the facility in your city and copy the promo code associated. The reservation time and date will be set automatically for November 24 from 6:00 AM to 6:00 PM.
Redeem & Reserve: To redeem the MONOPOLY FREE PARKING pass, add the locations promo code and your information for checkout. Your parking pass will be sent via email using the address you entered.
Arrive and Park: When you arrive, follow the instructions included on your pass. Typically, you'll either scan a QR code, show the attendant your reservation, or add your license plate number.
For any questions or issues, participants can contact customer service at 1-844-324-0473.
WHEN: Bookings open on Monday, November 20, 2023 at 12:00 PM ET on the SpotHero landing page. The MONOPOLY FREE PARKING pass is only active on Friday, November 24, 2023, Black Friday, at participating parking lots.