Licensing International Gathers Leading Executives for Discussion on Diversity & Inclusion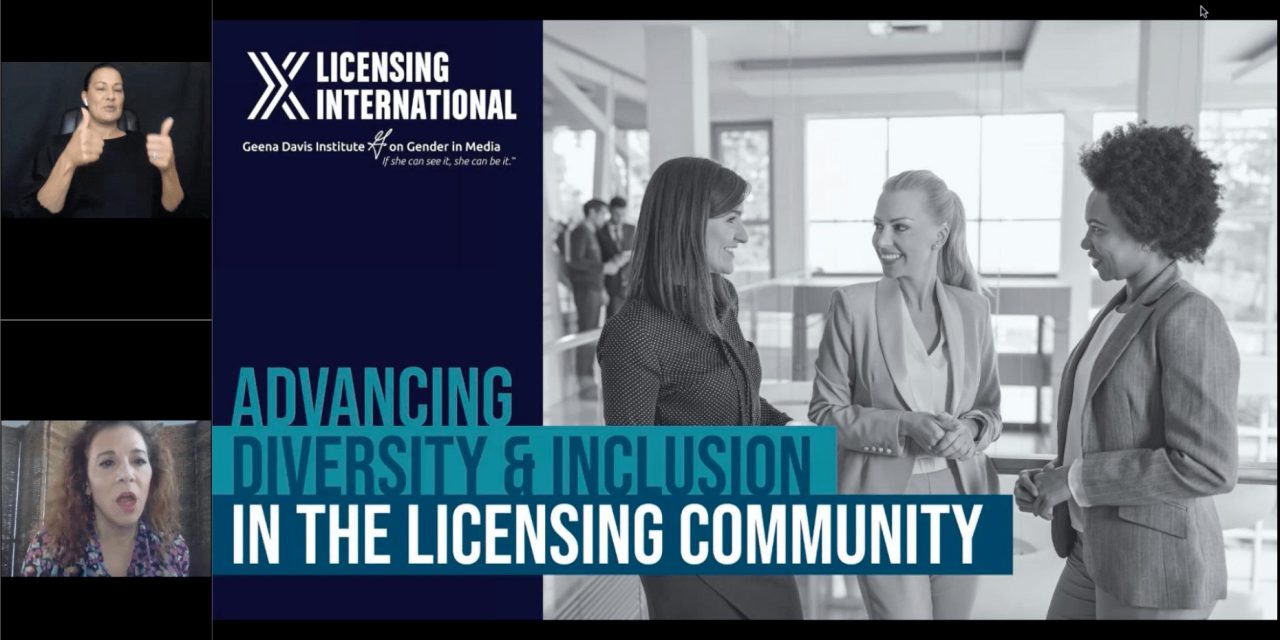 Licensing International – the leading trade organization for the brand licensing industry – hosted its first Diversity & Inclusion Workshop Monday, August 3, bringing together some of the leading minds in licensing and retail to discuss the challenges and opportunities organizations face as they look to enhance diversity and inclusive practices in their workforces and culture.
Madeline Di Nonno, CEO of the Geena Davis Institute on Gender in Media at Mount Saint Mary's University kicked off the event with a presentation of the findings of their recent benchmarking study of diversity in the licensing industry, commissioned by Licensing International. Among other findings, the research shows that while 30% of companies surveyed currently have a D&I program in place, only 10% have budgeted financial support to those programs.
"If you don't measure, you don't you have any substantive understanding of where things stand or a benchmark by which to gauge success," says Maura Regan, President, Licensing International. "This research is the crucial first step in creating real, lasting change in our companies and the global licensing community as a whole."
The full research study is now available for download at www.LicensingInternational.org.
Following the presentation of the research results, newly elected Licensing International Board Member Steven Wolfe Pereira, CEO & Co-Founder of Encantos, was joined by Petco's Chief Marketing Officer Tariq Hassan, for a screenside chat about what it means to create an organization that is truly inclusive and how to go about doing it.
"You cannot only do this from executive-level down," said Hassan. "If you want to tell people to bring their authentic selves to work, you've got to allow them to have a place to express it, and you've got to allow it to then influence the decisions of the company. … 'You don't have to ask for permission to be who you are' – we have to create a culture that celebrates that insistence. When you put it that way, it stops being about what's wrong, and it focuses on the energy and creativity of what's right."
The panelists who participated in the third part of the event echoed that sentiment, and shared details about how they are nurturing diversity at their own companies. They included: Bryony Bouyer, Senior Vice President, Diversity & Inclusion and Multicultural Strategy at Hasbro; Cindy Levitt, Senior Vice President of Licensing, Mad Engine LLC; Dolores Ordas, Vice President of People and Culture, Mad Engine LLC; and Eric Ueno, SVP of Human Resources of Hot Topic Inc.
Here are just some of the insights that were shared:
Bryony Bouyer, Hasbro: "We always like to say that diversity and inclusion is not a strategy, it's a value. Each of us own it differently. … This doesn't work if our middle managers in particular aren't driving it."
Dolores Ordas, Mad Engine: "When you're talking about inclusion, you're talking about how do we leverage the different perspectives and skillsets to our strategic advantage?" a point that was echoed by Bouyer who said: "At the end of the day, multiple points of view drive innovation, which drives dollars."
Eric Ueno of Hot Topic focused on the hiring process and said one key element was "paying attention to how you communicate with potential candidates – images, social posts, the words that you use, that those words reflect the goal of the diversity and inclusion and belongingness in your organization."
Cindy Levitt, Mad Engine said that transparency is key, in particular "making it a safe environment for everyone to talk about this very openly. … For everyone to really embrace it, we have to have an open forum internally to discuss it."
Much of the conversation throughout the event centered on where and how organizations can start to take action. To that end, Licensing International is proud to share its new Diversity & Inclusion Toolkit, developed in conjunction with the Geena Davis Institute on Gender in Media. For the next month, Licensing International is making this Toolkit available to the global licensing community at large, after which time it will continue to be available to Licensing International members and partner trade organizations.