La Menorquina partners with Chupa Chups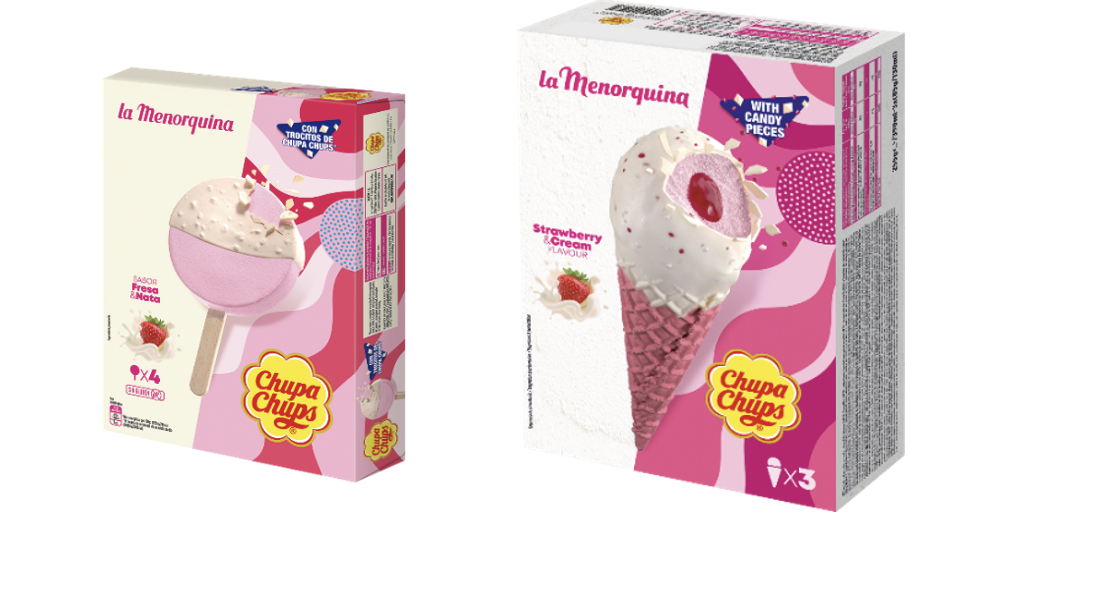 After the success of the Chupa Chups Cremosa ice cream last summer, the prestigious Spanish ice cream company La Menorquina partners with Chupa Chups to bring a perfect crunchy ice cream ball perched on a pink cone, exploding with frozen delight.
Prepare to be amazed by this innovative creation, once again inspired by the iconic and best-seller Chupa Chups strawberry-cream lollipop candy. Picture a crunchy pink cone filled with Chupa Chups strawberry-cream flavored ice cream, generously filled with a tantalizing strawberry sauce, encased in a white chocolate coating, adorned with delectable caramel chips and rounded sprinkles.
Marta Ballesteros, Perfetti Van Melle's Licensing Area Manager and F&B specialist commented: "Once again this launch exemplifies our joint commitment to innovation, seamlessly blending authentic brands with high-profile collaborations."
Laura Pérez, La Menorquina's Chief Marketing Officer says: "The ability to develop new products with Chupa Chups and to keep surprising consumers through continuous innovation are key factors for the success of the products and the international growth of the brands".
The new Chupa Chups ice cream is already available for purchase through La Menorquina's mass distribution network and out-of-home channels throughout the EU, as well as in the UK, MENA, Mexico, Philippines and Singapore.
Likewise, our thriving Chupa Chups Cremosa ice cream, the delicious lollipop bonbon with strawberry ice cream covered in white chocolate and sprinkled with caramel chips, continues to be sold in La Menorquina's mass distribution outlets and impulse channels.