Hunter Price to Introduce First Crayola® Collections to the UK Next Month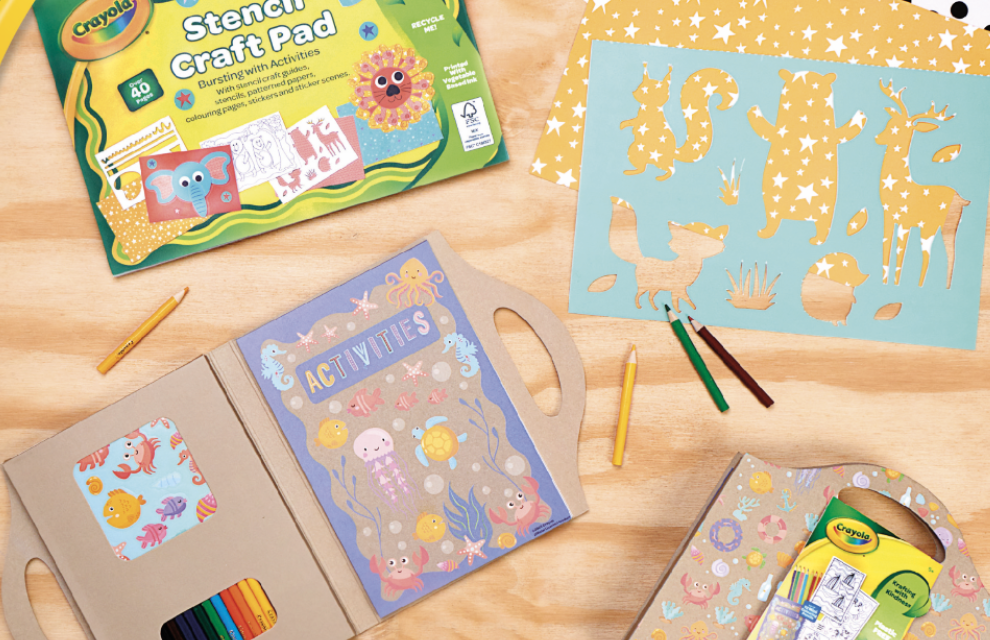 Hunter Price International has released the details of its first collections with creativity icon Crayola. The collections will launch in Tesco and Poundland in August.
A capsule collection will debut in 200 Tesco stores for the brand-new range Crayola Kraft, which has been created by the team at Hunter Price in collaboration with Crayola. Crayola Kraft is a predominantly paper-based range that has the environment at heart and aims to inspire kids to craft with kindness. The first range is plastic free, recyclable, printed with vegetable-based inks, and FSC certified.
Key lines include the Crayola Kraft Activity Case, which comes with 12 colouring pencils, sticker sheets, and a 30-page activity book containing colouring sheets, craft activities, and paper sheets. The Crayola Kraft Scrapbooking Kit includes a 40-page kraft paper scrapbook, sticker sheets, patterned and coloured paper sheets, tissue paper, decorative tape, and raffia paper ribbon.
The two other products in the collection include a Card Making Kit, and a 3D Wooden Animal Kit, with five assorted animals which can be coloured and decorated.
The second new collection concept is Crayola Everyday, a range of 19 products designed to encourage crafting and creativity everyday which will launch in more than 400 Poundland stores nationwide. The range combines Crayola quality product that features fun themes and characters, including monsters, unicorns and under the sea.
With a target demographic of children ages 3 to 11, the Crayola Everyday range features a variety of create-your-own items from puzzles to metallic canvases to a map of the world, as well as scratch art and paper pads. Most lines also include Crayola crayons, which are ideal for craft sessions with kids and adults alike.
"Crayola's partnership with Hunter Price expands the possibilities children in the UK have to creatively express themselves. These innovative products will complement the core Crayola range—which is distributed by Goliath in the UK and northern Europe—increasing the opportunities to inspire and engage children's imaginations," said Rob Spindley, Licensing Director, EMEA at Crayola.
"Over the past 12 months the team has worked tirelessly to develop more than 100 new product concepts and get them ready for retail. To launch one of our very first new ranges—Crayola Kraft—with Tesco, will be a hugely proud moment for the whole team," said Ben Cornwell, sales director for stationery, arts, and craft at Hunter Price International.
"We've been all over the world in recent months laying the foundations for the vision we're bringing to life for our Crayola ranges and I truly believe we're offering something different in this market. We're now off the mark with this first launch and it's full steam ahead with some huge announcements to follow very soon."
In the coming months, Hunter Price will be unveiling additional new product concepts in the UK and European markets.