French, Polish, Russian and Portuguese Publishing Deals Penned for The Red Harlequin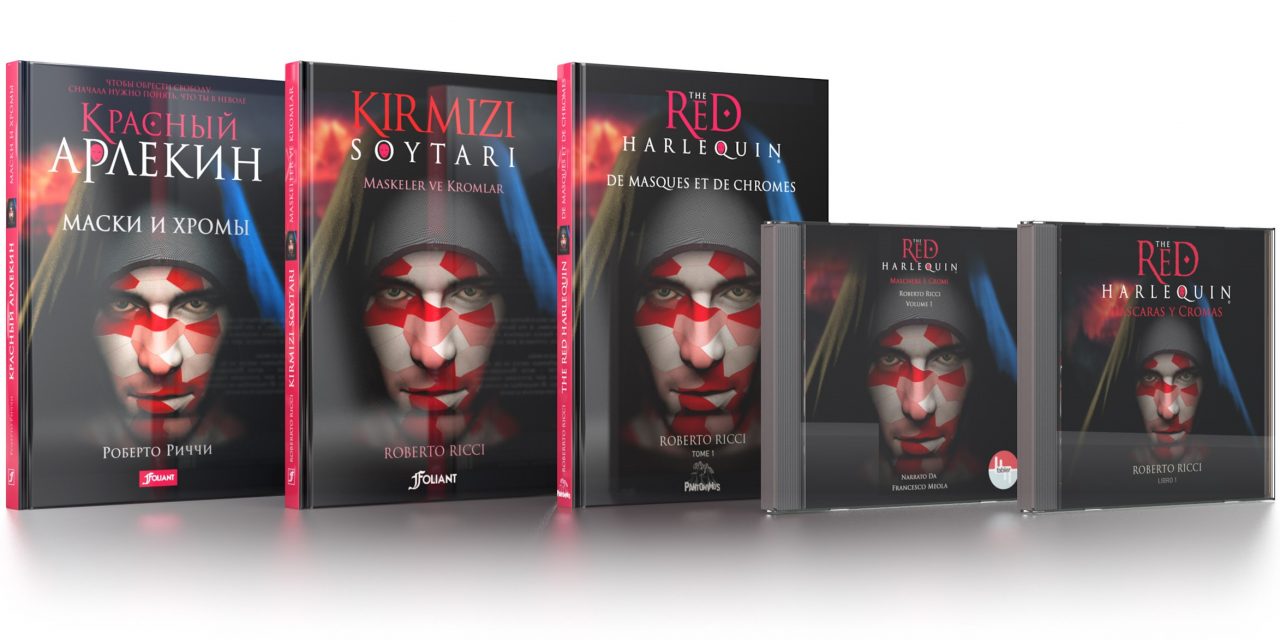 Pantomimus Media is delighted to announce four new cross media publishing deals for its YA fantasy book series The Red Harlequin, by Roberto Ricci, with Russia's Vimbo (Russian audiobook); Poland's Empik (Polish print, ebook and audiobook); France's Nabook reading platform (French multimedia); and Brazil's Ubook (Portuguese print, ebook and audiobook).
The deals were closed by Pantomimus Media, which has signed on six new publishers in 2021 alone, with worldwide partners publishing in 10 different languages: English, Spanish, French, Italian, Portuguese, Chinese, Russian, Polish, Turkish, and Kazhak.
New deals include: In France, Nabook, an online reading platform that aims to turn screen time into reading time, will offer multimedia versions of books 1-3 by Q4 2021. Nabook is a 100% youth-oriented reading platform. With their motto of Keep Playing, Start Reading, the company aims to convert screen time into reading time for young people (6-16) via an innovative, proprietary format to convey the pleasure of reading to everyone.
Karoly Fogarassay, CEO and Co-Founder of Nabook commented, "It has been a real pleasure to collaborate with Roberto and we are looking forward to adapting The Red Harlequin (L'Arlequin Rouge) to our format! The universe of the novel is very rich, vibrant and complex and this partnership is a great opportunity for us to open our catalogue to an older audience."
In Russia, leading audiobook publisher Vimbo has snapped up the Russian audiobook rights to all five The Red Harlequin books. Audio Publishing House VIMBO is a professional recording house, one of the leading audiobook manufacturers in Russia. It has a team of first-rate professionals, consisting of actors, directors, and editors and has been making sounds for 25 years.
Mikhail Litvakov, General producer of Vimbo said: "Audiobooks are enjoying tremendous growth in Russia and The Red Harlequin is a great add-on to our expanding teen list. We are always especially thrilled to find and introduce new bright names in the fantasy genre to Russian listeners."
Ubook, Brazil's leading audiobook platform, has acquired the worldwide Portuguese rights to books 1-5 of the series. Ubook will publish and distribute all formats of the books (audio, ebook & print) on its platform and reading apps, available on the App Store and Play Store as well as on third party platforms such as mobile phone carriers. Based in Brazil and a leading e-publishing force in Latin America, Ubook has over 400,000 titles in its catalogue, from Game of Thrones to biographies on President Obama, to The Lion King and The Little Prince.
And finally, in Poland leading publisher Empik has acquired the Polish print, audio and ebooks rights. The first novel, Of Masks and Chromes, will be launched on their digital platform Empik Go this summer and the audiobook, e-book and print books will be available on demand. Empik Go is one of the most popular digital applications offering digital content in Poland with a portfolio of almost 60,000 audio productions and e-books.
Roberto Ricci comments, "I'm thrilled to welcome these new publishing partners to The Red Harlequin family. It's exciting to see how the property is picking up interest and pace across different parts of the world and across different platforms."
Recent Deals (2020-2021): Other recent international deals have been signed with China's Lazy Joy's (ebook, print and audiobooks in Chinese), Saga Egmont (French audiobooks); Italy's Fabler Audio (Italian audiobooks); Spain's SonoLibro (audiobooks in Spanish) and Drakul Editorial (print books in Spanish); North American Dreamscape (English audio and ebooks) and Kazakhstan's Foliant Publishing House(Russian, Kazakh and Turkish print and ebook rights).
Created by former journalist and kids' entertainment executive Roberto Ricci, The Red Harlequin is an epic YA series that features Asheva, an aspirational teenager living in a complex world divided among Chrome Nations, where everyone lives hidden behind a mask. Backed by Finnish Media Fund, IPR, the series is being developed as a TV show with Showrunner Robert Butler (BAFTA winning co-creator of the BBC/DHX Creeped Out anthology series), and Rick Porras (co-producer of The Lord of the Rings).
For more information see: www.theredharlequin.com