Endemol Shine Group Unveils latest Peaky Blinders ranges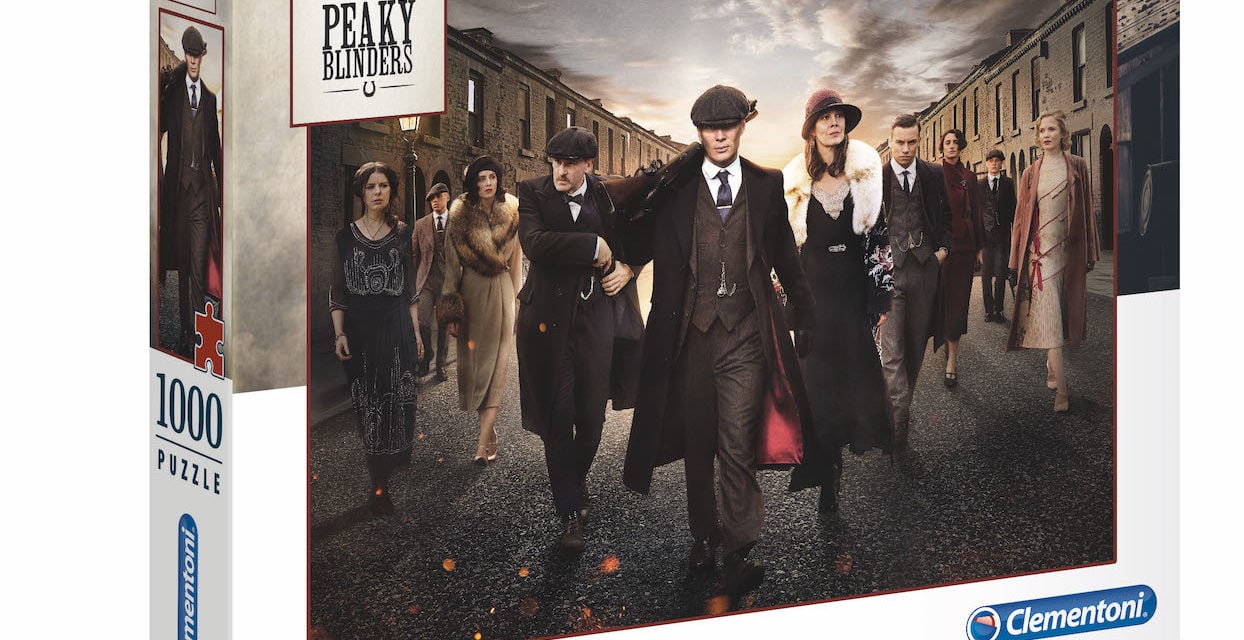 Global content creator, producer and distributor Endemol Shine Group today announced a range of new products inspired by the multi-award-winning hit series Peaky Blinders.
Collectibles developers BIG Chief Studios have created a Tommy Shelby figurine, the first in a series of collectable figures from the series, with other characters in development. Outfitted in a stunning hand-tailored costume, the Tommy Shelby collectible is currently available for pre-order, with actor Cillian Murphy signing limited editions.
Puzzle market leaders Clementoni have secured the European rights to make a range of Peaky Blinders jigsaw puzzles. The first of these is due for release shortly with Aldi in the UK, in addition to being available on Amazon later in the year.
Growing the brand's international presence, driven by the enormous success of the TV series globally, Endemol Shine Group are also working with men's fashion French retailer Jules to develop and release a Peaky Blinders range of sweatshirts and t-shirts which will be available later this year across all Jules stores in France and via their website.
Earlier this year, it was announced that the multi-award winning Thornbridge Brewery would be releasing the first official beer for the Peaky Blinders brand. Shelby, A 5% India Pale Ale, which is now available via Thornbridge's website and in France via leading beer retailer Saveur Bière, has also secured listings for limited edition Father's Day giftsets in Asda and Morrisons in the UK. In addition, Morrisons have confirmed further listings of the beer in stores from September.
Further Father's Day offerings which will be available exclusively online this year include limited edition Peaky Blinders t-shirts through the official webstore and e-cards which are available at Moonpig, Personalised.com, Card Factory and Funky Pigeon.
Fans of the show can browse all the latest ranges of official merchandise, print on demand and products available on the official Peaky Blinders webstore which now can also be accessed via the recently unveiled official website for the show, created by Peaky Blinders brand owner and producer Caryn Mandabach Productions. Recent additions to the apparel range include two exclusive t-shirt designs, developed to support the current COVID-19 crisis, with all profits going to NHS Charities Together.
Fans can also access, through the official fan website, a curated Peaky Blinders store on Amazon.co.uk which offers a range of official music, books, games, DVDs & more – ensuring fans can browse through legitimate Peaky Blinders products.
Jane Smith, Group Director, Brand Licensing & Gaming, Endemol Shine Group, said "Following the season 5 ratings success on BBC One and its rollout on Netflix, the Peaky Blinders brand is stronger than ever, and we have some very exciting projects in the pipeline. The latest deals are testament to the continued demand for Peaky Blinders and demonstrate the calibre of our licensees, our increased focus on e-commerce and ongoing retail support for the brand."
Susan Waddell, Commercial Director, Caryn Mandabach Productions, said: "We are thrilled to be able to bring the fans a fantastic and growing range of product through the recently launched Peaky Blinders fan website, the official webstore and the Amazon store".
Endemol Shine Group represent a range of global ancillary rights for Peaky Blinders which is distributed by Endemol Shine across more than 180 countries.
Created and written by Steven Knight (Dirty Pretty Things, Eastern Promises and Locke), the multi-award-winning BBC One and Netflix series is produced by Peaky Blinders official brand owner Caryn Mandabach Productions and by Endemol Shine Group's Tiger Aspect Productions. The season five launch on BBC One in autumn 2019 delivered its highest ratings yet.