Eggelbusch Collaboration with emoji®-The Iconic Brand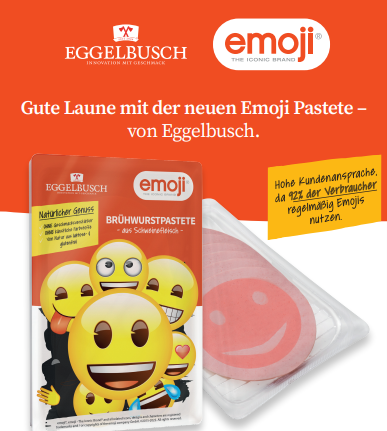 Eggelbusch, an innovative and family-run manufactor in the sausage industry in Germany with a long history, has teamed up with emoji®-The Iconic Brand and developed two ranges of "Brühwurstpastete" made of pork, that not only taste good but also look good, ideal for every day meals. The happy face is embedded into the products making it attractive for all target ages.
Eggelbusch delivers a brand message across the market – to express yourself through your meal, just like how we express ourselves daily using different digital icons.
The products are available now and can be found in selected meat counters and food retailers in Germany.
"The Eggelbusch X emoji® brand collaboration is a truly fun and expressive partnership to make all "Brühpastete" lovers out there feel happy when having enjoying the products from Eggelbusch", say Marco Hüsges, CEO of the emoji company. It´s another great execution and proof how well the emoji® brand works in the F&B segment.