Cruising with Peppa Pig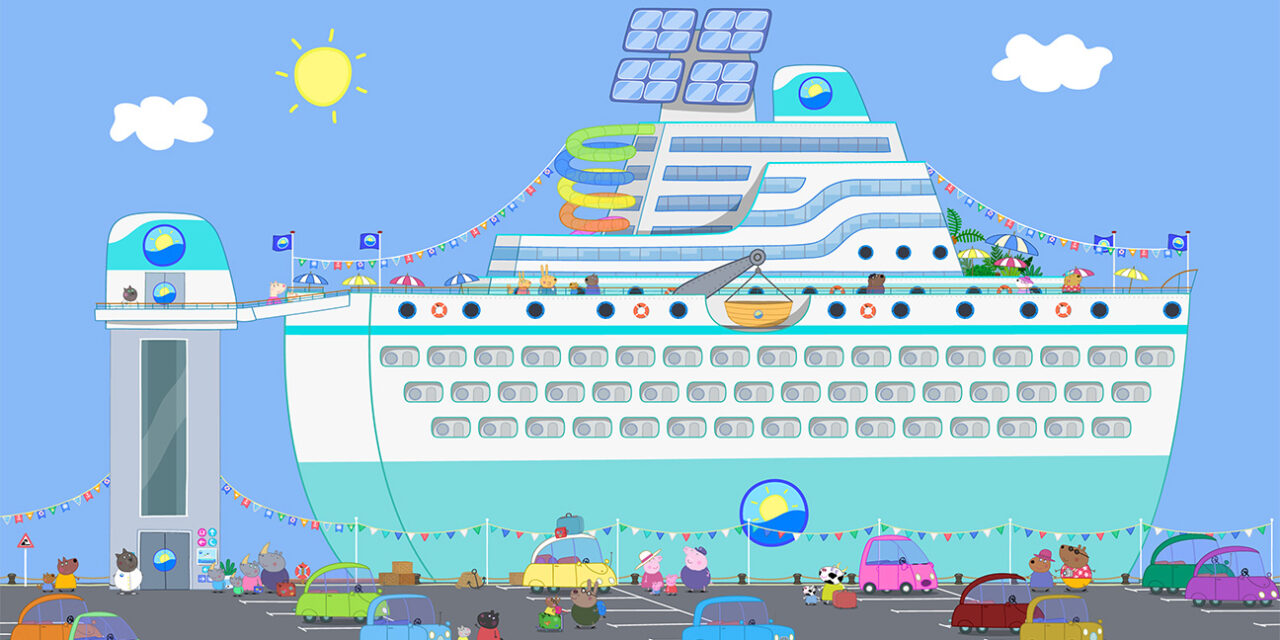 Entertainment One (eOne), Hasbro's global entertainment studio, announced that Peppa, her family, and friends will embark on an open seas adventure in a 4-part Peppa Pig Cruise Special, premiering on Nick Jr. June 5. The first trailer for the special debuted on the Hasbro official YouTube channel. To further celebrate Peppa's ocean voyage, Hasbro also announced the upcoming launch of a brand-new entertainment-inspired toy set, Peppa's Cruise Ship, available at retailers beginning August 1.
The combined 20-minute Peppa Pig Cruise Special sees Peppa, George, Granny Pig, and Grandpa Pig set off on a solar powered mega cruise ship where they explore themed cafes, shops, paddling pool, cinema, and play areas. As the family travels to a tropical island for some fun in the sun and sand, they'll bump into old and new friends on the ship including Mrs. Corgi, Mr. Stallion, Rohan Rhino, Daddy Rhino, Captain Otter, Pirate Pete, Mrs. Mermaid, and more. Complete with a whale sighting, pirate performance, treasure hunts, and potato rides… this holiday cruise is full of imaginative, oinktastic experiences for the whole family.
Each individual episode of the 4-part special – Cruise Ship Special, Holiday on the Sea, Tropical Day Trip, and Sailing Home – will be released in the U.S. on the Nickelodeon channel beginning June 5 through June 8, with same day airings on the Nick Jr. Channel. On Friday, June 9, the full 20-minute, combined special will air on Nick Jr.
Kids and their parents will be able to jump into the fantastic adventures shown in the Peppa Pig Cruise Special through a new entertainment-inspired toy set, bringing the cruise ship to life with an all-inclusive 3-level boat experience. Whether manning the ship as the captain on the main deck, sliding into the ball pit, driving the dinghy boat out for a quick trip or eating in a jungle-themed dining room, this toy is sure to spark little piggies' big imaginations. Peppa's Cruise Ship features 13 accessories and 3 character figures from entertainment, inspiring children's storytelling experience of their favorite character's day on a cruise. Peppa's Cruise Ship will be available at major retailers beginning August 1.