Cloudco Announces Multiple Deals for Care Bears' 40th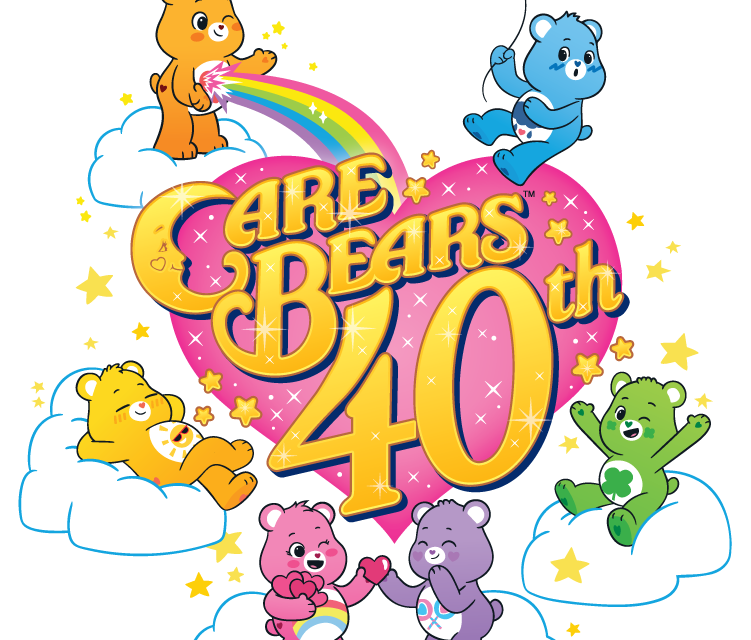 Cloudco Entertainment, owner of the heritage brand, Care Bears, has announced a wave of new deals as the loveable, huggable bears spread sharing and caring across Care-a-Lot, and beyond. New consumer product deals will start launching at the start of 2022, and throughout the year, as the brand celebrates its 40thAnniversary with collaborations spanning across multiple categories including fashion, accessories, homeware, cosmetics, games, crafts, seasonal, travel, and the metaverse. 
The Care Bears were first introduced in 1982 through consumer products, greeting cards, and later a series of animated television shows and feature films, and quickly became one of the most popular and endearing children's properties in the world. As the Care Bears embark on new adventures, from Care-a-Lot to the Silver Lining, they never shy away from their core values and invite their viewers and fans to join them in spreading sharing, caring, love, friendship, and togetherness.
To kick-off the Care Bears' 40th Anniversary, the Care Bears will be "taking off" with Alaska Airlines next month, spreading the message "We Care A Lot!" with flyers everywhere, followed by the property's partnership with RECUR and the launch of the first Care Bears NFT, and a design competition this spring with Threadless.
New partnerships in the apparel category include: H&M for baby, kids and adults; I Scream for kids; Chinti & Parker for adults; Dolls Kill for adults; FYE for adults; Bandy Button for kids and adults. In the accessories category, Cloudco signed new deals with Olympia Le Tan, Melissa, Knockarounds, and Dannijo. Additional licensee's products hitting retail this year, include: Igloo for homeware and PEZ for collectibles.
"The Care Bears resonate with fans of all ages and we love hearing that fans that grew up with the brand in the 80s are now introducing their own families and children to the Care Bears. Our wide-ranging consumer product deals allow us to create fun, new products that all of our fans will collect, and enjoy, for years to come." – Robert Prinzo, Head of Global Licensing, Cloudco Entertainment
Care Bears will also be introducing three brand-new characters to the Basic Fun! toy line, including a special-edition 40th Anniversary Care Bear commemorating 40 years of making the world a more caring place – Care-a-Lot Bear. Care-a-Lot Bear is the very first bear to exist in the magical Kingdom of Caring. Care-a-Lot Bear's belly badge depicts her iconic cloud castle being illuminated with a beautiful rainbow. This represents her passion to care for her neighbors and her community – radiating kindness and love to everyone she meets. Care-a-Lot Bear will also be included in the Headstart line in Australia and featured in a number of new, limited-edition capsule collections.
"With our core group of key characters such as Cheer Bear, Grumpy Bear, and Funshine Bear, and the introduction of newer characters like Togetherness Bear and Care-a-Lot Bear, the Care Bears continue to share their universal message of sharing and caring and explore relevant themes and topics with their fans. Without a doubt, the world is a better place thanks to Care Bears and their messages of love, hope, and happiness, and we look forward to seeing what new adventures the next forty years bring!" – Kristeen Tibbits, Head of Marketing, Cloudco Entertainment
In 2020, Cloudco relaunched Care Bears toys with new master toy partner, Basic Fun!. The new toy line features the new Unlock the Magic look and rolled out successfully at Walmart and Target as well as Amazon and a number of other online and brick and mortar retailers across the US, UK, and Canada.
Care Bears: Unlock the Magic™ TV series is now airing on HBO Max's preschool programming block, Cartoonito, Boomerang, and Cartoon Network in the US, Tiny Pop in the UK, Nickelodeon and Noggin in Latin America, Tiji and Gulli in France, CCTV14 Children's Channel in China, and many other broadcasters worldwide. Care Bears: Unlock the Music, a "YouTube-first" show featuring the Care Bears characters and original pop music is heading into its second season with 20 brand-new episodes and will be available to view on the Care Bears' YouTube channel this year.