Chefclub and Carrefour in Joint Project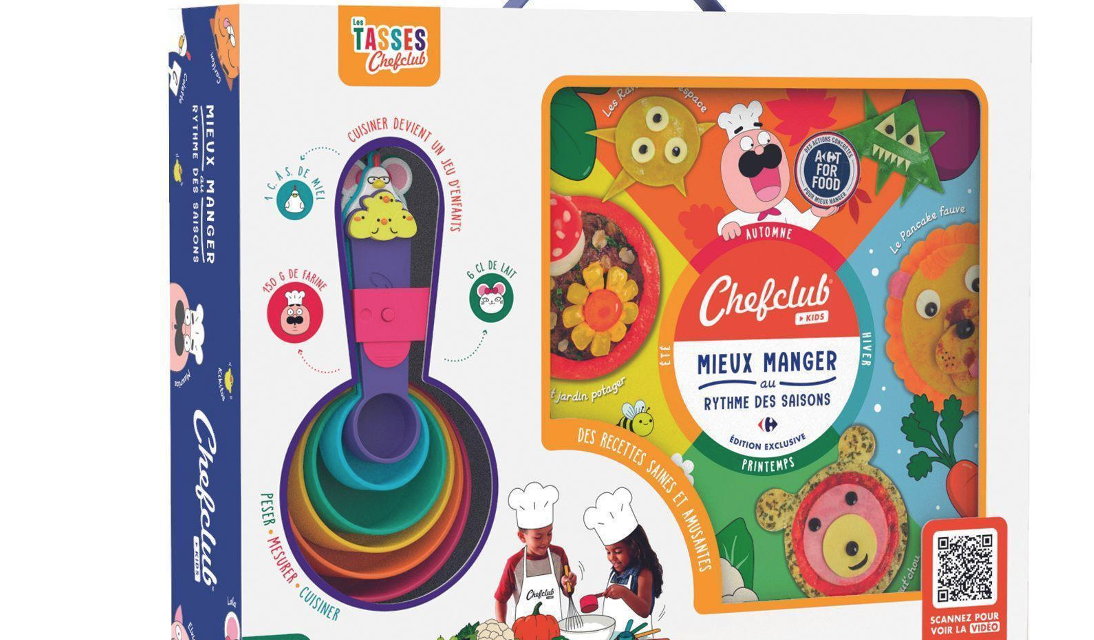 An immersive box to nourish a common belief!
Soup is great, but even better when presented as a teddy bear in a jacuzzi of pumpkin! Chefclub and Carrefour have created the Manger mieux au rythme des saisons boxed set to teach children how to cook star fruits and vegetables of each season. On the menu: an interactive book with 20 fun recipes and their zero-waste tips. Each recipe is easy to cook with 6 measuring cups included, while following the videos of chefs creating the recipe. It's showtime!
Having fun in the kitchen today…
"Bringing everyone together in the kitchen" is the challenge taken up by Chefclub, the most popular digital cooking brand on social networks. The recipe for success: spectacular videos, and for the little ones, the immersive Chefclub Kids universe, created to make you want to cook and enjoy yourself as a family! Thanks to entertaining recipes, zany and endearing characters, and utensils adapted to little cooks (such as measuring cups that avoid the hassle of weighing ingredients), cooking becomes the new playtime, a special moment of sharing at the stove and around the table. Cooking is no longer a chore, meals made from scratch are the first step to eating better, one meal at a time!
For better eating tomorrow!
This new initiative is part of Carrefour's Act for Food program, which proposes concrete actions to enable everyone to eat better. This is illustrated, for example, by the removal of controversial substances from its own-brand products, the promotion of local and seasonal products, and the support of producers in converting to organic farming.
About Chefclub www.chefclub.tv
Chefclub, the family cooking brand, was born in Paris in 2016 which has rapidly expanded in Europe, the United States, Latin America and China through the distribution of high-quality content. Chefclub's unique positioning between cooking and entertainment resonates far beyond the sphere of cooking enthusiasts: with over 2 billion organic views each month and 100 million followers worldwide, Chefclub is the world's fastest growing brand on social networks.