Cariuma and the Van Gogh Museum Take a Big Step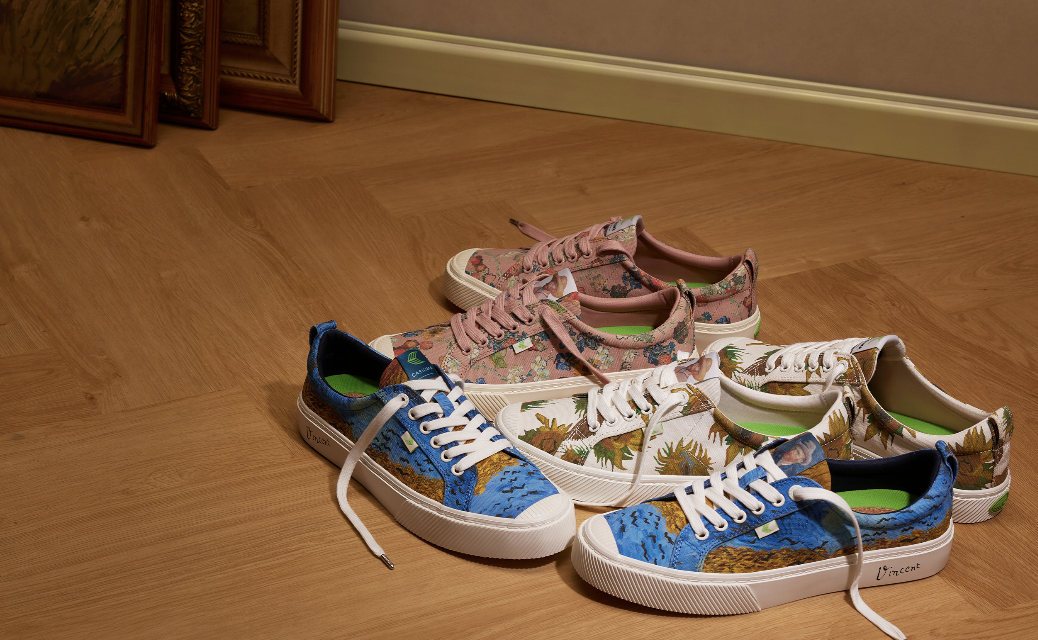 Cariuma and the Van Gogh Museum announce their partnership, which celebrates the beauty of nature while emphasizing the importance of environmental restoration. This collaboration marks an important milestone for both organizations, as they celebrate the museum's 50th anniversary with four artist-inspired shoe designs: the Sunflowers Oca, Sunflowers Salvas, Wheat Fields, and Jubilee Flowers.
The Sunflowers Oca shoes are a vibrant representation of life, with brush strokes capturing the essence of bright florals. These shoes are designed on Cariuma's iconic and beloved OCA silhouette, known for its 100 percent vegan composition, which incorporates organic cotton and natural rubber. The Sunflowers Salvas shoes offer a simple yet striking design with mesmerizing patterns.
The Wheat Fields pair showcases the allure of rolling hills beneath an indigo sky at dusk, masterfully capturing the evocative beauty of nature as depicted by Vincent van Gogh. Meanwhile, the Jubilee Flowers shoes were exclusively created by the Van Gogh Museum to celebrate their 50th anniversary, featuring captivating hand-painted blooms and a timeless design that pays homage to the renowned artist.
The Van Gogh Museum, founded in 1973, provides visitors from around the world with an intimate glimpse into the extraordinary life and exceptional work of Vincent van Gogh. It stands as a hub for art enthusiasts to revel in some of the most iconic pieces ever created. To commemorate their 50th anniversary, Cariuma and the Van Gogh Museum have collaborated to produce these unique and ethereal designs inspired by Van Gogh's imagination and artistic prowess.
This collaboration aligns with Cariuma's commitment to environmental stewardship and contributes to its mission of restoring biodiversity and protecting our planet. Cariuma's tree-planting program has already planted over 2 million trees, with two trees planted for every pair of shoes sold. The program focuses on reforesting the Brazilian rainforest, particularly the Atlantic forest biome, which has only 11% of its original coverage remaining. Cariuma also ensures that a portion of the trees planted are on indigenous land, fostering the preservation of indigenous culture and knowledge. Around 70 indigenous people, including the Guarani and Tupiniquim peoples, work closely with Cariuma's program, significantly impacting both biodiversity and local communities.
The collaboration between Cariuma and the Van Gogh Museum showcases the potential of art and fashion to promote sustainability and celebrate the beauty of nature. The launch of these shoes inspired by the artist launched on July 12th and has captured the attention of audiences worldwide.
"We admire Cariuma's mission and are excited to partner in this beautiful collaboration. The range not only reflects the work of Vincent, but also Vincent's love of nature and it shares an important message on how we can better serve our planet," says Marijn Veraart, Head of Licensing of the Van Gogh Museum.
"We are delighted to share that we have partnered with Cariuma and the Van Gogh Museum. This collaboration combines Cariuma's eco-friendly approach to footwear with Vincent van Gogh's art from the Van Gogh Museum, creating a truly wonderful capsule collection. This venture enables us to continue to bring Van Gogh's artwork to life in a tangible manner while also emphasizing a dedication to conserving our planet. This collection is a reminder of the profound relationship between art, nature, and sustainable living," adds Chris Taday  Co-Founder of Licensing Link Europe Limited.