Bored of Directors Signs Bioworld Merchandising as Master Apparel licensee: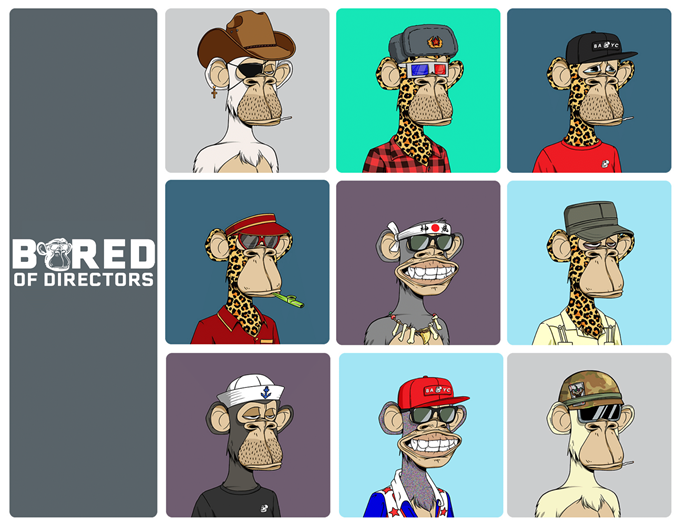 Bored of Directors, the premiere collective of Bored Ape Yacht Club NFTs, kicks off its U.S. Licensing program with leading apparel manufacturer, Bioworld Merchandising, it has been announced.
NFIP Holdings, in conjunction with its exclusive licensing agency, Brand Central, launched Bored of Directors in May 2022. Bored of Directors offers 12+ BAYC Apes owned by like-minded individual owners featuring a variety of aesthetics and personalities under one collective brand. The collection of Bored Apes and the derivative artwork and assets created by the Bored of Directors is a great representation of the brand, complete with a full style guide featuring on trend images, personalities and graphics and the collective plans to bring more Bored Ape owners on board as the brand grows.
In partnership with Bioworld, fans of Bored Ape Yacht Club will officially be able to wear their favorite characters across a variety of apparel and accessory categories. Consumers will be able to get a piece of the iconic NFT without having to purchase a token for several hundred thousand dollars. Bored of Directors apparel will be available at retail and e-commerce soon!

"Bioworld was the perfect partner to bring the Bored of Directors collective of Apes to life at retail," Says Alex Locke, Co-Founder and Managing Member of Bored of Directors, "We couldn't be more thrilled to announce this partnership and bring these Apes and our brand to its growing fanbase"
In addition to its master apparel partner, Brand Central will be announcing several other new licensees in the upcoming weeks and news on its robust global program.