BLUEY MAKES THANKSGIVING PARADE DEBUT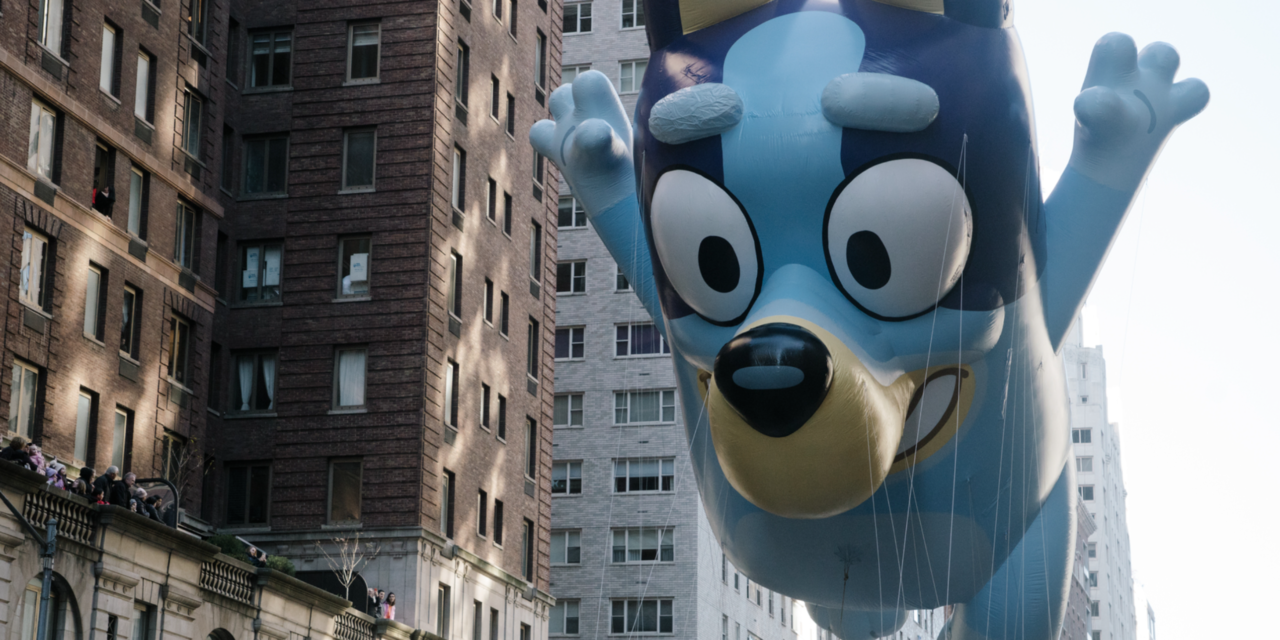 For the first time, Bluey helped Americans welcome the holiday season at New York's 96th Macy's Thanksgiving Day Parade yesterday.
The giant helium Bluey balloon was specially created for the event and was a staggering 51 feet long, 37 feet wide and 52 feet tall. That's about as tall as a four-storey building and stretches as wide as seven taxi cabs.
The stunning balloon was hand-painted by a team of artists using approximately 50 gallons of blue paint.
The parade rounds off a great week in the US for the smash-hit children's brand. Bluey's Big Play made its theatrical premiere, the voices of mum and dad Bandit (Dave McCormack) and Chilli (Melanie Zanetti) met for the first time, and later appeared side-by-side for an interview with Jimmy Fallon.
Bluey is a runaway global hit that broadcasts across 60+ territories, covering North America, Latin America, China, Asia, ANZ, UK & EMEA.
In Australia, Bluey has been #1 children's programme since launch in October 2018. It's a stand-out series in the US too and ranks in Neilsen's Top 10 titles on Streaming and Top 10 Acquired titles. Over in the UK, Bluey has been streamed on BBC iPlayer over 140 million times since it launched in April 2021.
Additionally, there are 8 Regional Bluey YouTube channels, with a combined 83.5 million hours of total watch time and over 2 billion views globally – this amasses to over 2.68 million subscribers in total. Furthermore, launch in May 2022, Bluey's TikTok channel has become the fastest growing pre-school TikTok channel, gaining over 960k followers in just 7 months.