BLE reconnects European licensing industry as attendees participate in thousands of in person meetings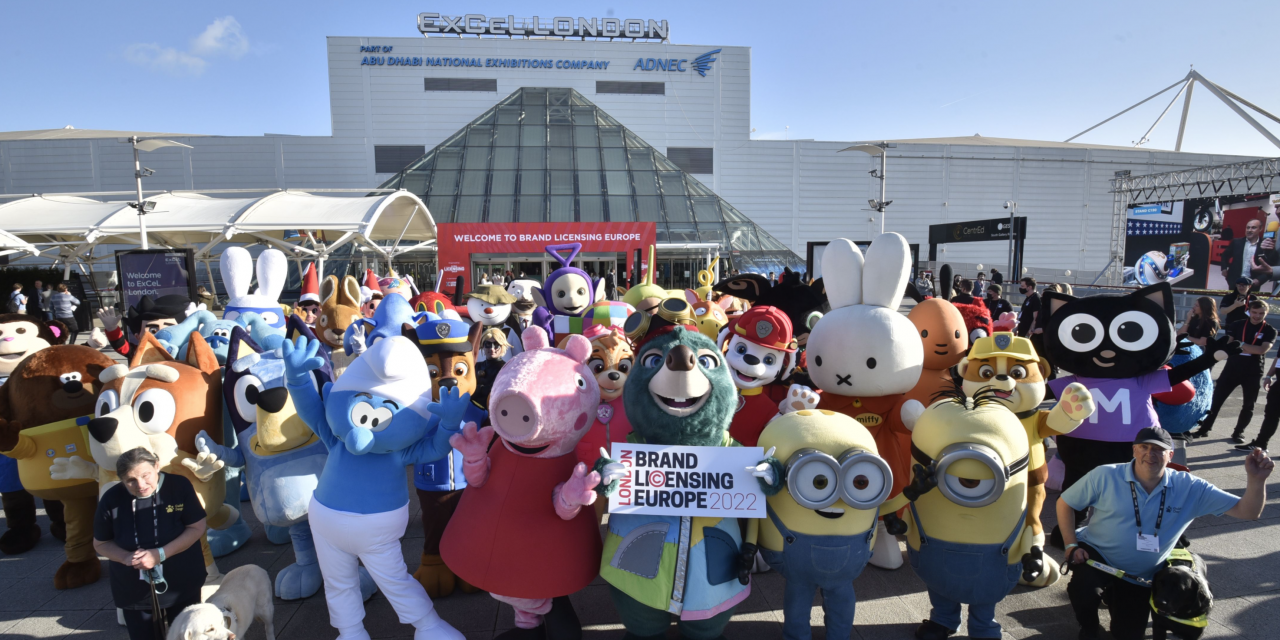 Attendees to Brand Licensing Europe, which took place at ExCeL London last week, participated in 2,669 pre-booked meetings and many hundreds more arranged spontaneously during the three-day show, resulting in one exhibitor hailing the event a 'triumphant return'.
BLE was back in person after more than two years away to reconnect thousands of retailers, manufacturers and designers with over 150 exhibiting companies and a marked increase in retailer attendees compared to 2019 (11 per cent to 15 per cent).
Jeremy Orriss, director of licensing, Difuzed, said: "I am not often pleasantly surprised, but BLE 2021 managed to do just that. As productively busy as ever, great retailer presence and a few welcome covid safe hugs. Even I have to admit the quality of attendee was probably the best for a long while and I'm looking forward to a "normal" BLE 2022 in September next year."
Philippe Glorieux, head of marketing and communications, IMPS The Smurfs, added: "What a pleasure to get together live! We were all really happy to be able to look each other in the eyes and no longer through a screen …Congratulations to the entire Informa team for having braved all the complications and for having masterfully organised this beautiful BLE 2021 opus. Many excellent meetings with partners who were there to reconnect with the real business, the one of human beings who want to collaborate and create new adventures together! As they say in Smurf world … fewer than 300 sleep before the next BLE! I can't wait!"
Laura Nevanlinna, CEO, Ferly: "BLE 2021 to me felt almost like a homecoming; a return to the community most of us hadn't had the chance of spending time with for almost two years. And it was great to be back. The quality of the meetings was excellent, the ad hoc conversations at our stand and in the halls inspiring and really, simply seeing the fun, interesting licensed products at the stands of other exhibitors made the week more than worthwhile!"
Two packed keynotes saw Team GB and Olympic gold medallists Tom Daley and Charlotte Worthington talk emotionally about their journey to success in Toko, and ViacomCBS Consumer Products present a fascinating and humbling report on diversity and dolls. The BLE Sustainability Activation in partnership with Products of Change was consistently busy, the Battersea & Guide Dogs for the Blind dogs regularly patted, and the two costume character parades left everyone smiling.
BLE 21 networking continues online
A further 870 (and rising) meetings have now been booked on the BLE platform for the follow up online event, which takes place 30 November and 1 December. Attendees unable to attend BLE in person, and those who did attend but want to book overflow meetings, will be able to connect with most of the in person exhibitors as well as 53 online-only exhibitors, including Mattel, The Pokémon Company, Playmobil, ITV Studios, Bavaria Media, Brigitte Bardot, Edutainment Licensing, Metrostar, Mondo TV, Princess Sam, and more.
The event's online content programme will expand BLE's 'What's Next' theme including three online-only 'In Conversation' sessions with senior executives from ViacomCBS Consumer Products; a sustainability panel with Products of Change, and Licensing U, alongside the option to watch recordings of the Team GB and ViacomCBS live keynotes, five 'What's Next at Retail' sessions and the Kelvyn Gardner License This! final which took place at the show. All of this content will be available to watch on demand for free until 28 February 2022.
Online-only content includes:
'D&I In Conversation' sessions with ViacomCBS executives
Diversity in the Workplace
Diversity in Content
Diversity in Products
Brands for Social Change: Join Products of Change as they talk to Yellow Octopus, Newlife, Preloved Kilo and George at Asda to discuss how they are diverting clothes from landfill and building a fully circular fashion industry.
Licensing U: Featuring 14 presentations across three tracks – Basics, Spotlights and Tactics & Strategies – Licensing U is a one-stop-shop education programme about the $292bn licensing industry for newcomers and experienced professionals.Tickets start at £145 if purchased ahead of the event, or £160 in the platform, and can be purchased when registering for BLE. (Licensing International members can enjoy a 10% discount).
Anna Knight, VP licensing, Informa Markets, said: "What can I say? A massive thank you to everyone who not only made it possible for BLE to return in person this year, but who delivered a top-quality event that delivered on its promise to reconnect the European licensing industry for three days of incredible networking and content. We couldn't be prouder or more delighted with the feedback we've received from exhibitors, visitors and partners.
"Next stop BLE online on Tuesday 30 November and Wednesday 1 December. This is the last real opportunity for the European licensing industry to connect en masse in 2021, so book those meetings now. And then next year we'll be travelling over to Vegas for Licensing Expo and finally – just 10 months from now – BLE 2022, which will take place 20-22 September at ExCeL London. Despite the sore feet, we can't wait."
Maura Regan, president, Licensing International: "We and our members were particularly enthused about the quality of the meetings we had during BLE. Everyone was there to do serious business. At the same time, people were so excited just to be back together again, and the good cheer at the Opening Night drinks and throughout the Expo was invigorating. We're looking forward to the virtual BLE for those who weren't able to make it to London, and to the outstanding Licensing U educational programme that we've prepared."