Bing makes impact at retail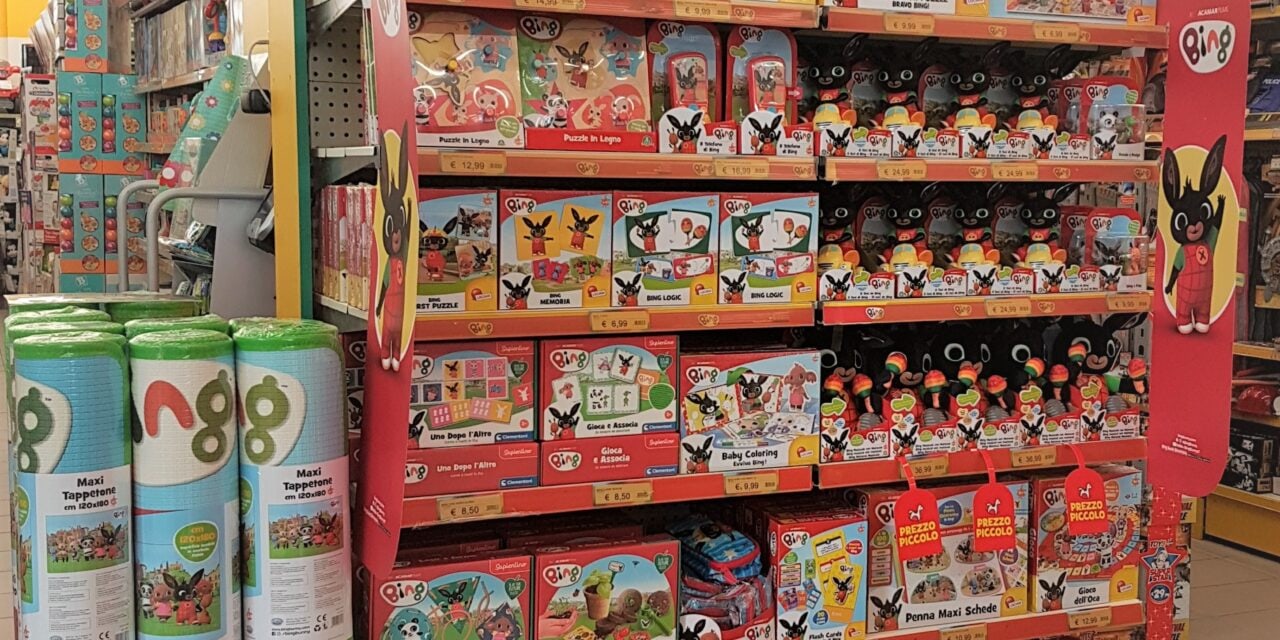 Major toy and retail stores across Italy are preparing themselves for Christmas this year with high-impact displays dedicated to the International Emmy Award-winning pre-school series, Bing. With the support of Italian agent Maurizio Distefano Licensing, Acamar Films is implementing a diverse strategy that aims to strengthen Bing's presence both in stores and online.
Leading Italian toy retailer Toys Center has new branded shelf areas solely dedicated to Bing. With over 90 locations participating and with some areas including a light-up display, grown-ups will easily be able to find the perfect Bing thing for their little ones. Bing will also have a significant branded area at Toys Con Te, starting at the retailer's newly opened location in Rome Tiburtina. Bing will then roll out across the retailer's best-performing locations.
With the collaboration of master toy partner Giochi Preziosi, 157 Bing-branded bay areas have been created for Italy's main mass-market retailers: Carrefour, Finiper, Conad, Bennet and Mondadori.
As Bing's presence continues to grow in stores, the hit pre-school show's e-commerce footprint is also expanding. Toys Center and Acamar Films recently collaborated on a dedicated Bing shop-in-shop on the Toys Center website. Various Bing products are now available to purchase via a direct link on Toys Center's home page. Acamar Films has also launched an Italian Bing Store on Amazon. The store was recently highlighted in a successful paid media campaign ahead of Amazon Prime Day on 13-14 October.
Bing is currently number 1 on Rai Yoyo's RaiPlay app and is the most watched series on DeA Junior. Pre-school fans have had a real treat this November with the release of two brand-new episodes on Rai Yoyo, including a Halloween episode and the Nicky episode, which introduces a delightful new character, Nicky, Sula's adorable young cousin.
In addition, as part of Acamar Films' multi-platform distribution strategy, the Italian Bing episodes (together with various educational games and activities) are available to stream and download through the recently launched Bing app called Bing: Watch, Play, Learn, and on the official Italian YouTube channel. The YouTube channel today boasts an average of 30 million views each month. Bing is also available on TIMVision's on-demand platforms and on Amazon Prime Video in Italy.