Barbie Launches Schools Resource in the UK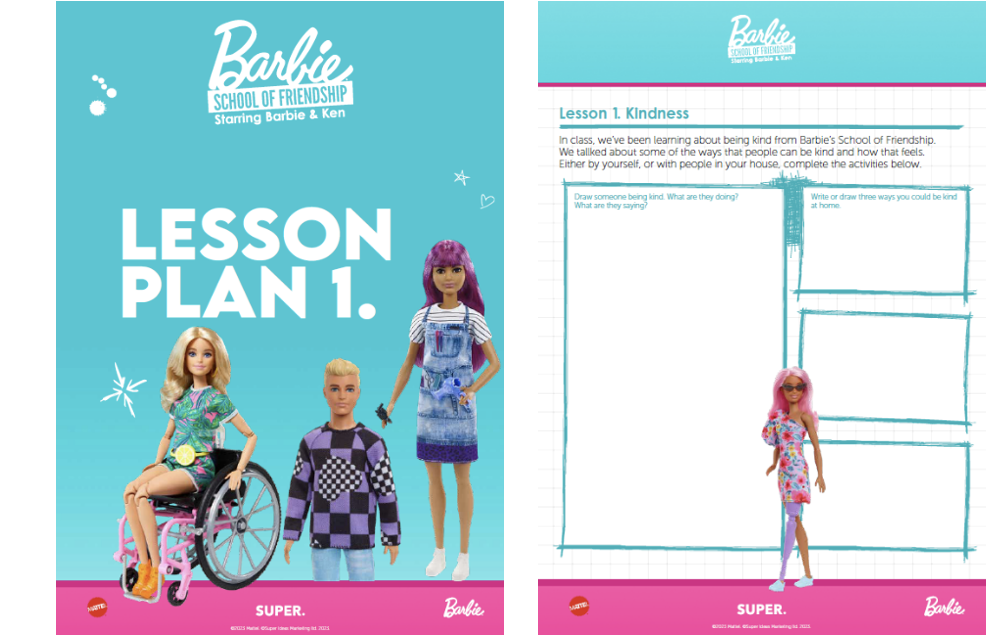 The 'Barbie School of Friendship' resource has been created in collaboration with educators, as a school's programme that will engage primary schools and KS2 pupils in learning and developing empathy and social skills.
Running throughout 2023 in 700 schools across the UK with the potential to reach 150,000+ pupils, the engaging resource encompasses PSHE and citizenship topics to aid development of important social skills, both in school and at home. Children will take part in a series of lessons designed to encourage the children to consider nuance and the importance of empathy in different realistic situations such as when a school friend feels left out. The resource will help children to learn how to find solutions, compromises and positive outcomes. Doll play will be used at the heart of the resources to actively encourage children to engage with and explore empathy with regards to the DfE requirements.
The programme has been built on neuroscientific research commissioned by Mattel and undertaken by Cardiff University which found that doll play activates brain regions that are associated with social information processing such as empathy. When children create imaginary worlds and role play with dolls like Barbie, it prompts them to talk about thoughts about others' emotions and feelings. This can have positive long-lasting effects on children, building social and emotional processing social skills.
Kelly Philp, Marketing Director Mattel UK says: "Since publishing the Barbie Benefits of Doll Play research in 2020, we have been talking directly with parents about the positive benefits that doll play can have on children's development of empathy and key social skills. Now, for the first time we are speaking to children and teachers about the benefits of dolls play in an educational environment. We hope this will be a valuable asset for teachers to help children understand empathy in a relatable way."
The Barbie School of Friendship will be available from February half term 2023, with each registered school receiving 12 Barbie and Ken dolls, 4 ready-made lessons with presentations for each lesson, teacher guide, additional guidance for SEND children, emotion flashcards, pupil certificates and stickers, emotions wheel poster, competition leaflet, information to give to parents and additional cut out dolls for lessons.