Asembl Gets Sweet for Easter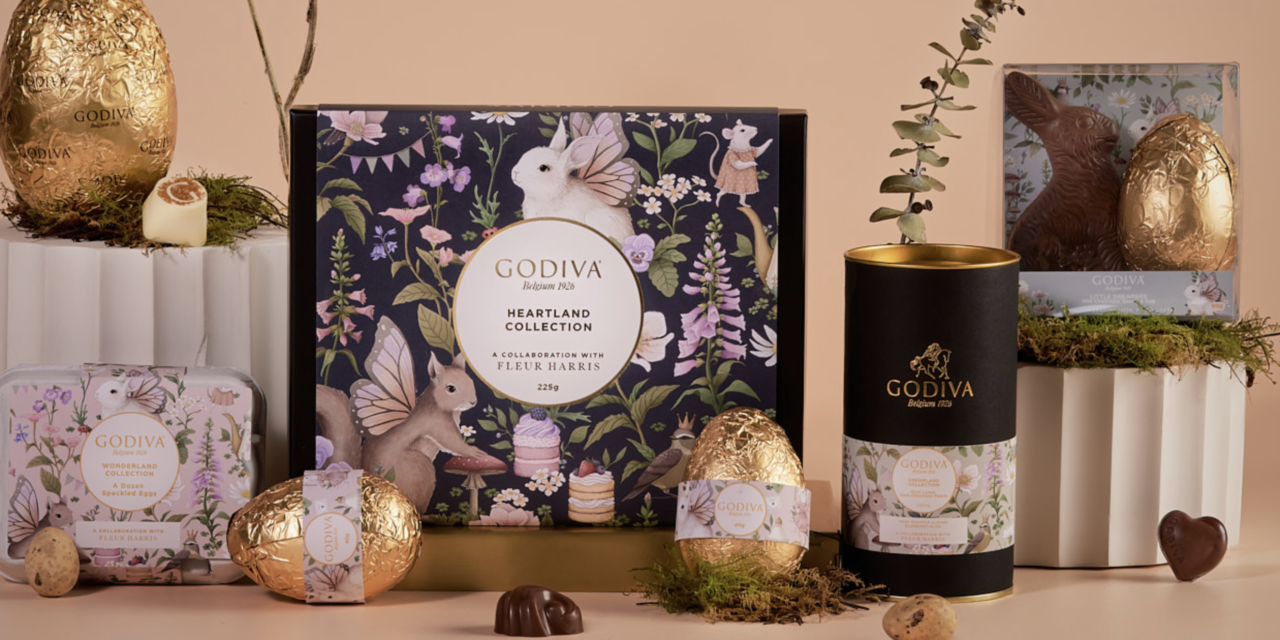 Asembl is sweetening up Easter with Fleur Harris' first chocolate capsule collection for GODIVA.
The delightfully designed capsule which is in GODIVA stores and online now features Fleur's magical and much-loved 'Garden Party' artwork as part of the chocolatier's Enchanted Easter collection.
For the first time Fleur's enchanting 'Garden Party' artwork has been brought to Easter life across four packaging pathways – 'Dreamland', 'Heartland', 'Little Dreamers', and 'Wonderland' which make up GODIVA's Enchanted Easter collection.
Each of GODIVA's Australian stores have been transformed into Enchanted Easter wonderlands featuring beautifully themed window displays and whimsical in-store point of sale displays.
"The team at GODIVA and I share an unwavering passion for beautiful quality product, gorgeous presentation and high-end customer service, so it is an absolute pleasure to be partnering with them for my first chocolate collaboration to create the Fleur Harris x Godiva 'Enchanted Easter' collection," said Fleur Harris.
"We are thrilled to collaborate with the talented Fleur Harris for our Easter collection. Fleur's unique design aesthetic and passion for the season perfectly align with our own. We believe that her artistic flair will enhance our premium chocolates, making them even more special and memorable," said GODIVA Australia Marketing Manager, George Sakellaris.
"We are incredibly pleased to have secured this Enchanted Easter collection for Fleur Harris with GODIVA. Together we have captured the incredible beauty of Fleur's magical and timeless illustrations and paired it with the pure indulgent luxury of GODIVA chocolate to deliver a truly enchanting and memorable Easter collection," said Asembl Managing Director, Justin Watson.
GODIVA's Enchanted Easter capsule by Fleur Harris includes the Dreamland Collection – there's nothing more delightful than GODIVA's Most Loved Milk Chocolate Pearls, Easter edition! Featuring three of our most-loved milk chocolate flavours, this tin of pearl-shaped, chocolate-coated nuts are a sweet addition for a show-stopping spread at your Easter Sunday lunch, or the perfect gift for the snacker in your life.
The Heartland Collection Gift Box also features in GODIVA's Enchanted Easter capsule by Fleur Harris – bring wonder and sophistication to the Easter season with a 12-piece collection of our signature Belgian pralines and crispy-shelled, creamy hazelnut praline Easter eggs. The perfect gift for lovers of chocolate this Easter.
GODIVA's Enchanted Easter capsule by Fleur Harris features Little Dreamers – let their imaginations soar – gift your loved ones the perfect Easter chocolate treat with the Milk Chocolate Bunny & Egg. Featuring a delicious bright-eyed, bushy-tailed, and as cute as a button bunny with a milk chocolate egg.