In Conversation with Brainbase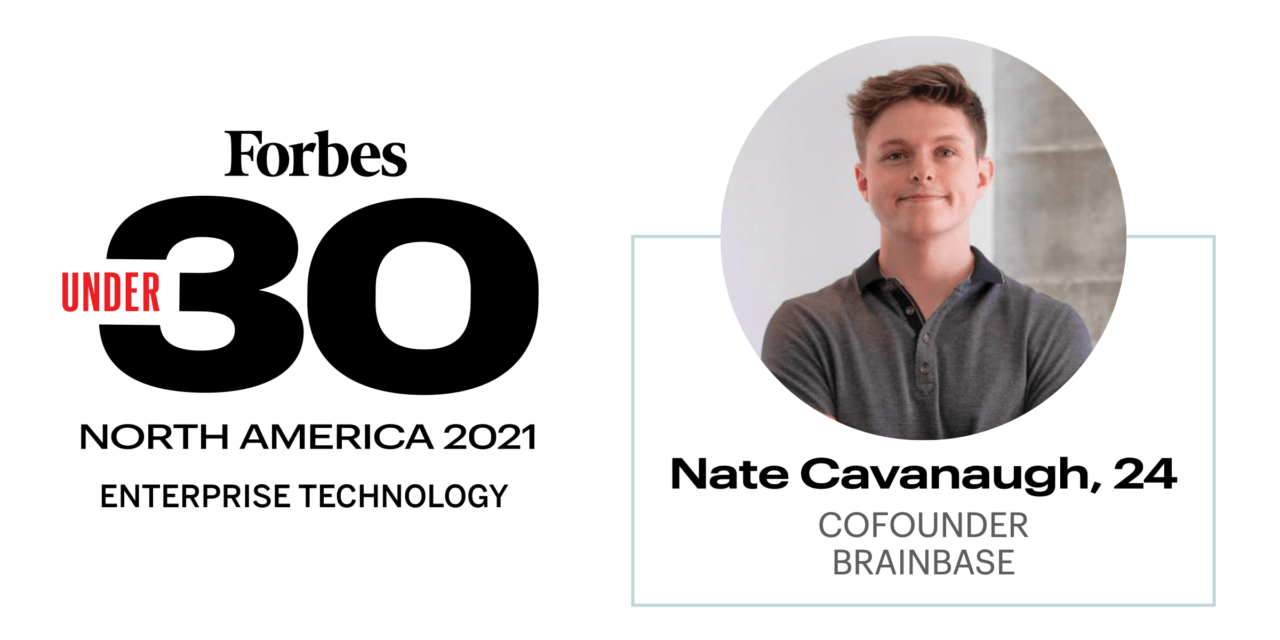 We caught up with Nate Cavanaugh, Co-founder, Brainbase, about his recent honor of making the Forbes 30 Under 30 list. From start-up to multi-million-dollar company, Nate tells us that Brainbase aims to become the biggest tech platform of its kind. Here, we talk about how it feels to make Forbes' list, and what Brainbase has to offer the licensing industry and beyond.
Congratulations! How does it feel to be included in such a prestigious list?
It's a real honor, especially being in the same list as such an accomplished group of people, in categories such as founders, operators, creators and more. The 30 Under 30 list has been on my bucket list since high school.
Over time it has become less important as a personal accolade and more about what it means for Brainbase achieving credibility and respect from the industry, as well as raising awareness for licensing as a whole. Wider recognition in IP fields is very welcome. Given that we serve some of the largest brands around on our platform, I think it also helps and reassures our customers that they have chosen the right vendor to work with.
As an accolade, it's great news for you and of course Brainbase.
Thank you. I think in terms of highlighting the industry – one statistic has always stood out to me. When we started the company, Amazon put out a research report stating licensed product sales will reach one trillion dollars by 2025, and when we were raising money to start Brainbase, that figure was really startling and impressive for investors. A trillion dollars is a crazy figure!
What about that future – how do you think the industry is growing and will change?
The licensing industry is still growing at a good pace, and my personal bias is that more and more of that growth will come via e-commerce sales, especially as the platforms grow.
Do you think there is a danger of some companies, and more traditional retail, being left behind if they don't adapt?
Retail will become more experiential, which is not a particularly hot take, as many brands are already seeing this. I think high-end, luxury brands in particular will thrive in this arena, people want to come and experience product in person. Apple is a good example of this.
One of our largest customers is Sanrio, and they've launched an e-commerce platform where they have made the move into diversifying away from the retail environment.
It's not a new idea among most companies and executives, and the important thing is to get your strategy correct.
There is a lot of change and adaptation going on – new ways of customer service, for example, see consumers able to reach out to brands and retailers on social media and WhatsApp, what are your thoughts on this?
I cannot think of a brand that has seen a negative impact as a result of embracing a new technology – it is hard to think of the counter example, of a brand that has seen growth by not moving toward a new tech, platform or medium. There are a ton of examples of this across every sector – look at the New York Times or Wall Street Journal, where their revenue stream used to be mainly from printed sales it now comes from digital.
Tell us some of your thoughts, business-wise, for the next year and the future?
We are four years old now and have dozens of brands on the platform, and tens of thousands of licensees who access the platform.
We want to build on the brand and are launching two new products in 2021 – news will follow soon on those.
We will build products for the entire IP lifecycle that a brand follows, so there is a big picture goal always in mind.
Who in the 30 do you most admire?
There's such an impressive portfolio of people on the list – it was great to see people I really admire in sports and social have this recognition. It's also great that around 50% of the list was female and a significant percentage of the list was formed by underrepresented minorities as well.
What's next for you – and your own personal goals?
We are trying to build the leading tech company in the IP industry and we want our customers to know that when they work with Brainbase, specifically in the licensing industry, we want them to feel good about using the platform.
We always need and aim to recruit incredible talent – recruiting is a critical part of building this business and the 30 Under 30 helps legitimise the business.
We compete with global tech companies so we need to be as equally compelling for the best people to want to work for. The best talent certainly have options!
What would you say to a person who is just starting out in the industry – what are the key messages you would give?
What I am seeing increasingly with the new talent entering the space is that they are open and amenable to trends and technology, e-commerce as a sales challenge. Over time as these current young execs mature in the industry they will have more influence in the shape of the space.
My message would be continue to study the broader macro trends in e-commerce and retail and understand how these trends are applicable to your chosen field.
In terms of your platform and specific tech, do you have plans to utilise this is any other industries?
That's a great question and the answer is yes! If you think about what customers use our platform for, we know that many companies do approvals – not just in licensing, but it will open up our market size in terms of those companies
Licensing is, of course, the foundation of our business!