WowWee Makes a Splash with Hasbro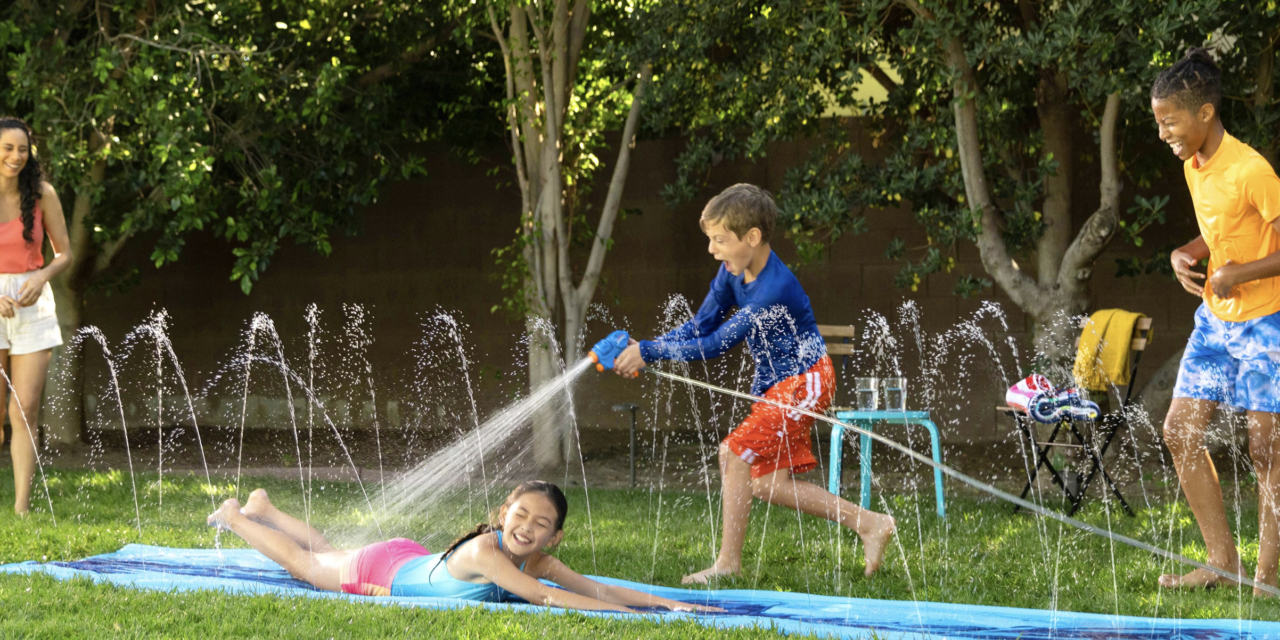 WowWee and Hasbro announce their expanded partnership to bring more classic HASBRO GAMING products to the outdoor play space & unleash the ultimate soak with innovative new NERF SUPER SOAKER products.
Following the success of the NERF SUPER SOAKER RoboBlaster, the expanded line focuses on epic activities for friends and family to play together, leading with the NERF SUPER SOAKER Soaker Blast Slider (Ages 5-12, $29.99), a splash-tastic 16-foot water slide with a built-in water blaster! Look out for the NERF SUPER SOAKER SkyBlast Target Sprinkler (Ages 6+, $19.99), featuring 3 targets kids must knock down to launch a rocket in the air, while dodging the 360º sprinkler. Then test your aim with NERF SUPER SOAKER Toss 'N Splash (Ages 6+, $29.99), a family favorite bean bag toss game that soaks anyone who misses their shot!
After making a big splash with outdoor games in 2022, led by the Outdoor Toy of the Year (TOTY) Award winner Twister Splash, WowWee expands its offerings of SPLASH GAMES with reimagined outdoor versions of more favorite family games. Hungry Hungry Hippos Splash (Ages 4+, $19.99) turns the classic hippo feeding frenzy into a team sprinkler game, where the best aim wins! Pie Face Splash (ages 6+, $24.99) pumps up the drama and excitement as players wonder who will be the first to get splashed. And, new Twister JR Splash and Battleship Splash join previously introduced Twister Splash, Operation Splash, and Crocodile Dentist Splash.
Making a HUGE backyard statement, MONOPOLY Splash (Ages 5-10, $999) brings an inflatable, life-size MONOPOLY board to your backyard where YOU are the game token! The massive 3D game board features 2 ways to play: Classic MONOPOLY gameplay and a high energy obstacle course race. Players collect MONOPOLY money as they splash through pools, dodge sprinklers, climb the tower, slide down the water slide and splash down into jail!
"Families, retailers, and media had such a tremendous response to last year's line that we knew early on we wanted to expand on our partnership with Hasbro," said Michael Yanofsky, VP of Sales at WowWee. "We're thrilled to add our WowWee 'wink' and bring more innovation to the outdoor game and water toy categories."
Jess Richardson, VP Licensed Consumer Products at Hasbro, expressed "We are excited to partner with WowWee and drive innovation across Nerf Super Soaker and Hasbro Gaming in water play and activity. We look forward to making a splash in families' backyards this summer."
With even more SPLASH HASBRO GAMING and NERF SUPER SOAKER items launching this spring, it's time for kids and families to bring on the splash all year long!