LMG & Maxx Marketing Develop Monopoly board game developed into a special Mass Transit Railway Corporation (MTR) Limited Edition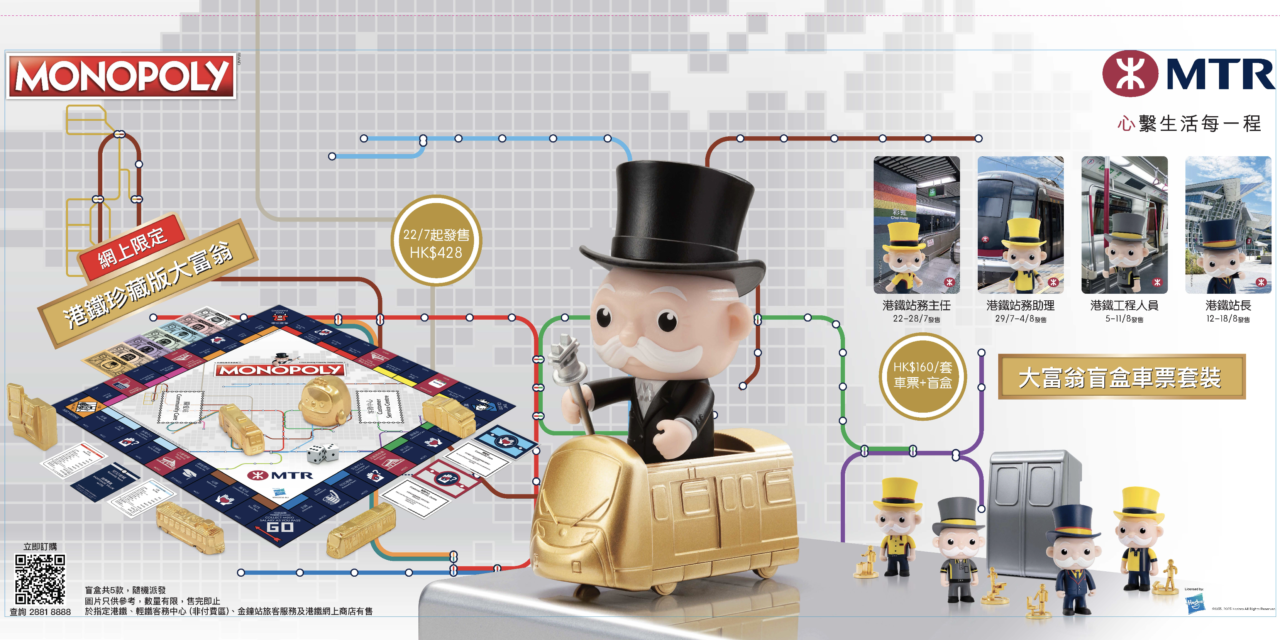 Maxx Group has secured a marketing promotions campaign by aligning two of its business units, Maxx Marketing (marketing promotions) and Licensing Matters Global (licensing) to deliver a unique multi-faceted consumer activation which sees Hasbro's long-established Monopoly board game developed into a special Mass Transit Railway Corporation (MTR) themed limited-edition board game.
The 'MTR Edition Monopoly Board Game' incorporates a blind box ticket set and incorporates iconic elements from both the popular board game and MTR's Hong Kong's rail network.
Taking players on a unique rail journey the MTR special edition turns the board spaces into consumer recognisable stations, depots, shopping malls and mobile networks; traditional 'community' cards and 'chance' cards become 'community care' and 'customer service centre' that highlight the community focused spirit of MTR. Models of MTR trains, title deed cards, 'House & Hotel' tokens have all been tailor-made for the MTR version of the game.
Beyond the board game there are four versions of the 'Monopoly Blind Box Ticket Set', each of which contains one ticket and one blind box, each of which includes a figure of Mr Monopoly dressed as MTR staff, and an MTR-sign-inspired token which can be used when playing the board game. The four designs feature Mr Monopoly as the MTR Station Master, Station Officer, Station Assistant and Maintenance Staff. Each blind box resembles an MTR train compartment and can be used for storing and displaying tickets.
This campaign marks the first collaboration between MTR and Hasbro, bringing together the globally renowned board game with a rail network corporation which is operational in Hong Kong, mainland China, the UK, Australia and Sweden.
Andrew Kwan, EVP at Maxx Group, comments:
"We are proud of this collaboration with Hasbro and the seamless collaboration of trademark rights, design and development of an entirely unique and limited edition 'MTR Edition Monopoly Board Game'. It brings to MTR passengers and Monopoly fans a unique and entertaining game which is relevant to their daily lives and where they live within the network.
He continues: "We hope to have further opportunities with other global brand owners who can benefit from our different business units to maximise creative marketing campaigns."