Getting Animated!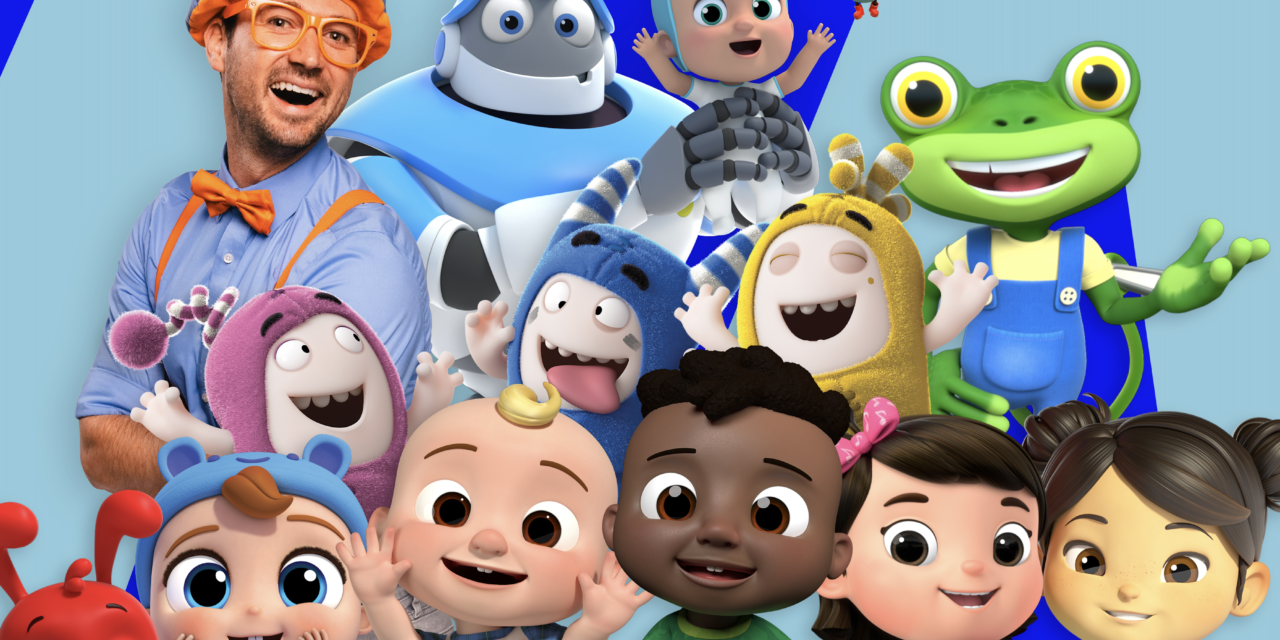 Exploring exciting developments in this busy market as we approach MIPTV
As the industry gears up for MIPTV (April 17-19), there are new and existing excitements in the world of animation. From new shows, new formats, and licensing programs that are seeing the courser, we bring you some highlights from the important world of animation.
Toon2Tango GmbH & Co. KG, the kids and family entertainment venture headed by television and movie industry experts Ulli Stoef and Jo Daris, will be promoting a number of significant properties at MIPTV.
They include Hey Fuzzy Yellow!, which has been awarded with EU funding and is co-produced by US Curiosity Ink Media, led by Nickelodeon Studios veteran Russell Hicks.
A unique show for the very young, Hey Fuzzy Yellow! is a spirited new spin on childhood edutainment with a focus on independent thinking and self-expression through exploration in the company of Fuzzy Yellow and friends. Production on Hey Fuzzy Yellow! begins at the end of April.
Lily of Fawonia is a new 26-episode series for kids aged 6+ which has already attracted a major French company as co-producer. It's a hybrid series, modelled on a blend of live-action and animation – like the massive international hit series Mia and Me, whose production team included Toon2Tango's Ulli Stoef and Jo Daris. The show is about Lily, who on her 15th birthday finds out that she is a princess and holds the fate of the world in her hands.
Toon2Tango has also agreed with Finnish production house Animaker to develop, produce, finance and distribute a TV series based on a European hit kids' franchise which already produced two very successful feature films, that together have earned nearly US$50 million at the box office. "Niko & the Way to the Stars" (2008), and "Niko 2 – Little Brother, Big Trouble" (2012) have inspired a third feature, due in 2024. The films are about Niko, a young reindeer who discovers that his father is one of Santa Claus's reindeer.
APC Kids is bringing TeamTO's new action-adventure comedy series Jade Armor to MIPTV. APC Kids holds worldwide distribution rights for the series, excluding the Americas and China.
Produced with France Télévisions and Super RTL, the 26 x 26' series stars a strong, kung-fun-loving female central character aimed at a 6- to 10-year-old audience. The series has also been picked up by Cartoon Network (EMEA), ABC (Australia) and SRC (French Canada).
The legendary Jade Armor is a mythical superhero, and now it is Lan Jun's turn to be Jade Armor. Even she can't quite believe her destiny is to be this epic hero! With the help of her friends, Theo and Alisha and the mystical Beasticons that accompany the Armor, Lan Jun is thrust into a series of action-packed adventures. Every day, she must contend with both an evil array of super villains and the very real trials of teenage life.
Jade Armor's talented all-female creative team is led by multi-award-winning executive producer Corinne Kouper, supported by director and co-creator, Chloé Miller; head writer, MJ Offen; French story editor, Ghyslaine Pujol, and co-developer, Mary Bredin. Jade Armor is entirely produced in TeamTO's state of the art animation studios in France.
Xilam is excited about its latest offering – Lupin's Tales – Season Two. A preschool show co-produced by Xilam Animation and Youku (the online video and streaming platform of Alibaba Group) for France Télévisions, Alibaba holds rights in mainland China, Xilam Animation handles rest of the world.
Lupin's Tales follows a wolf-cub who dreams of being like the storybook heroes he admires and goes from one tale to another to live out their adventures through all continents and ages. But the impetuous Lupin is far from perfect, and it is not always easy for him to get to his "happily ever after" – luckily, he can count on help from the narrator and on his good heart to guide him and learn from his mistakes. The second season will see the introduction of a new environment as Lupin journeys into space.
Also at MIPTV, WildBrain will bring Brave Bunnies – the brainchild of Ukraine's Olga Cherepanova, co-founder of Glowberry and Creative Producer; Tim Fehrenbach, Series Director and John van Bruggen, Executive Story Editor. Aimed at the 2-5 range, Brave Bunnies is the inspiring story of two curious and adventurous bunny siblings, Boo and her big brother Bop. The bunny duo and their family (Ma, Pa, and the Bunny Babies) travel around the world in their Bunny Bus. Each day, they camp and explore a new landscape, creating joy and excitement in the everyday adventure of meeting new friends. They play new games, learn about new locations, and learn that new friends (and their families) sometimes do things a little differently. Each step along the way, and every day, these bunnies are brave in BIG little ways.
Mondo TV, one of the largest European producers and distributors of animated content, has numerous programming highlights planned for MIPTV. Co-productions include comedy adventure Monster Loving Maniacs (52 x 11' / 2D full HD) – which has made the top 10 linear airing on CBBC on several occasions since its initial broadcasting – about three siblings training to become Monster Hunters – but who would rather get to know the monsters than hunt them! Then there's the spy-fi adventure comedy Agent 203 (26 x 22' / 3D CGI), about Zoe, who is on a quest to save the universe while also trying to be a regular teenager.
Grisù (52 x 11' / 3D CGI full HD) is back! The delightful story of the little dragon who wants to be a firefighter rather than a fire-breather is returning in a brand-new series due for launch this autumn.
With Rai Kids and Clan already on board and looking for pre-sales, the comedy adventure Annie & Carola (52 x 11' / 2D full HD) is about nerdy Carola, who builds Annie – a robot clone – as a friend. Something goes wrong and the uninhibited Annie drags Carola into any kind of crazy situations!
Let's colour-switch! is the catchphrase of One Love (26 x 7' / 2D Full HD), where children can spend time on the planet One Love, and learn about handling emotions, kindness, courage, and friendship.
Among the series in distribution, iQIYI's The Tales of Wonder Keepers (52 x 11' / 3D CGI full HD with further seasons in production) is a fantasy series about three brave friends from an icy realm facing challenges in the unfamiliar surroundings of our own world.
Switching to edutainment, kids can share the daily adventures of little Leo as Leo's World (10 x 12' / 2D full HD) welcomes children on the autism spectrum as well as neurotypical pre-school children.
And of course the ongoing success of environmentally themed comedy adventure and edutainment show MeteoHeroes (2 Seasons and 4 TV Movies / 2D full HD) will be another highlight of a busy show for Mondo TV – especially with series two just finishing production in time for the April 22 Earth Day premieres this year.
Emmanuèle Pétry Sirvin, Producer & Head of International, Dandelooo comments on the company's latest offerings:
"Dandelooo is dedicated to the development, production, and distribution of original and ambitious animated programs and I have to admit that we are a fan of preschool programs above all genres. And, that we are naturally climate change aware and feel the need to share that concern with kids. "It has always been very important for us as animation producers to bring productions that are respectful of the environment. Our animation studio Ooolala, launched in 2018, was designed from its inception to develop a sustainable approach to guarantee a very low carbon footprint for any producer willing to reduce its impact on the planet. With this in mind, Ooolala developed internally a new technology "ecooo", which based on experience is able to monitor and adapt its carbon consumption measured in real time.
"We believe in creative visions, with lots of fun and our strategy continues to be "follow our heart", educating and empowering kids around the world whilst they immerse themselves in fun filled adventures.
"In a show for youngsters' life remains comforting, constructive, positive, fair, heartwarming… like a "normal", aka ideal life – "simple is nice". Moreover, these values remain strong over the years which means the show doesn't age as much as trendy kids' series potentially can. Furthermore, humor, situations and feelings for preschoolers are the same from Taiwan to Vancouver, from Paris to Reyjkjavik. Physical humor, imagination, caring, and emotions meet children's daily lives from north to south. AND young kids love to learn! 
"Therefore, we are proud to bring to MIPTV the following series:Billy the Cowboy Hamster (52 X 13'); Pompon Little Bear: (111 x7'); Jasmine and Jambo (52 X 7'); Ernest and Celestine (52 X 13'); The Hungry Bear tales (26 X 7'); Taina and the Amazon's Guardians (44 X 11'); The Treehouse Stories (103 X 7') and Petit (65 X 7')."
(Article continues below)
Dandelooo will also introduce The Super Heroes of Nature.
Using playful metaphors and references to popular culture, the hybrid series takes a poetic and often humorous look at biodiversity. It offers a playful introduction to biology and each episode is built around an animal or an organism and its environment.
The phenomenon that is Bluey has seen some more launches recently, including Bluey: Easter book, based on the wildly successful animated series Bluey, as seen on Disney+. It's Easter! Bluey and Bingo are worried that the Easter Bunny has forgotten them, until they find a clue that takes them on an egg hunt. Gemmy Bluey Easter greeters and Bluey Bunny Baskets are two further launches timely for spring.
Moonbug Entertainment, a subsidiary of Candle Media, recently announced a streaming partnership agreement with Vidio, the largest OTT service in Indonesia, marking the global entertainment company's further expansion into the Southeast Asian market. Vidio, a division of the Emtek Group, began offering Moonbug programming on its platform on 6 February 2023. The agreement is the first major OTT streaming deal in Indonesia and comes as Moonbug looks to expand its reach in the Indonesian market.
The deal will not follow a linear format, but rather deliver an entire package of SVOD content. It will also include select hours of programming on Emtek's pay-TV channel, Horee, plus a block on FTA channel, Mentari TV. The Moonbug content will be available for all viewers across Indonesia and will be made available in English and Bahasa Indonesia. It will also be accessible anytime anywhere to Vidio subscribers.
All Moonbug IPs will be featured on the services including global hits CoComelon and Blippi along with other established series such as ARPO, Go Buster, Lellobee City Farm, Morphle, Little Angel and Oddbods.
"At Moonbug, we are committed to bringing the best entertainment and storytelling to families across the globe, and we are thrilled to partner with Vidio to bring our best programmes to this new audience," said Kelly Cooke, Director Distribution APAC, Moonbug Entertainment."Vidio's large library of original content proves how well they understand the Indonesian audience, providing viewers with high quality and relevant programming. This partnership will enhance their offering and bring some fun and entertainment to many families across the region."
Produced by TeamTO and 22D Media Group, Behind the Beats is made in association with YouTube Kids & Family Originals and France Télévisions.
Behind the Beats is an animated documentary series for families that tells the stories of how talented musicians with incredibly different styles came together, revealing the often-unexpected origins of new musical genres. Who knew the beats of these original tunes still reverberate in today's pop music?! Using funky, dynamic animated storytelling with lively narrators, the series explores the stories behind movements such as New Wave, Rock'n'Roll, G-Funk, Reggae, Electro Pop and Trap. Episode examples, which feature three songs each, include Punk Meets Disco (how Blondie paved the way to the New Wave) and Gangsta Rap Meets P-Funk (how Snoop Dogg paved the way to G-Funk). Available for sale worldwide excluding France.
Get ready to GEAR UP and GET IT DONE! as new Treehouse original series Builder Brothers Dream Factory (40x11min) nails down its world premiere on Sunday, March 26 at 9:40 a.m. ET on Treehouse, and streaming live and on demand on STACKTV. Inspired by the acclaimed Property Brothers, Drew and Jonathan Scott, the cutting-edge animated series will be distributed by Corus Entertainment's Nelvana and is co-produced by Sinking Ship Entertainment and Scott Brothers Entertainment. In the series, the brothers are a pair of regular kids who use their extraordinary imagination, creativity, grit and heart – coupled with a big dose of TWINSPIRATION to help friends and solve problems in the neighborhood by dreaming big, really big, sometimes too big! Along with best friends Mel and Ayana, the brothers navigate the highs and lows of trying to make their world a better place, one big dream at a time.
Builder Brothers Dream Factory is inspired by the real-life, Canadian Screen Awards nominated hosts of Property Brothers, Drew and Jonathan Scott. Drew and Jonathan's shows on HGTV Canada are beloved by families across the country who connect with the brothers' can-do and always fun-loving approach.
Another very popular show, Daniel Tiger's Neighborhood, has seen several product launches recently, including Daniel Tiger's Neighborhood 3-in-1 Ride-On (Skip Hop). An interactive ride-on for little ones, featuring five cheerful Daniel Tiger phrases, sounds and the theme song from the show. This special edition ride-on grows with toddlers in three stages of fun—from beginner to advanced walkers. The interactive ride-on plays 5 Daniel Tiger phrases & songs: Let's go for a ride!, Hi neighbor!, Wasn't that Grr-iffic?, Trolley ding & Daniel Tiger theme song as it encourages motor skills development, balance and coordination. Stage 1 is used as a walker/wagon when toddlers are learning to walk and also allows them to push and pull favorite toys along. It then moves to Stage 2 when the wagon converts to a seat for ride-on mode, helping toddlers learn foot-to-floor motion. In Stage 3, it easily converts from a ride-on to a scooter. The 3-in-1 also features an adjustable handle and headlight activated with a push of a button.