Da Vinci in Major Content Expansion With Acquisitions From Beyond Rights and Boat Rocker Media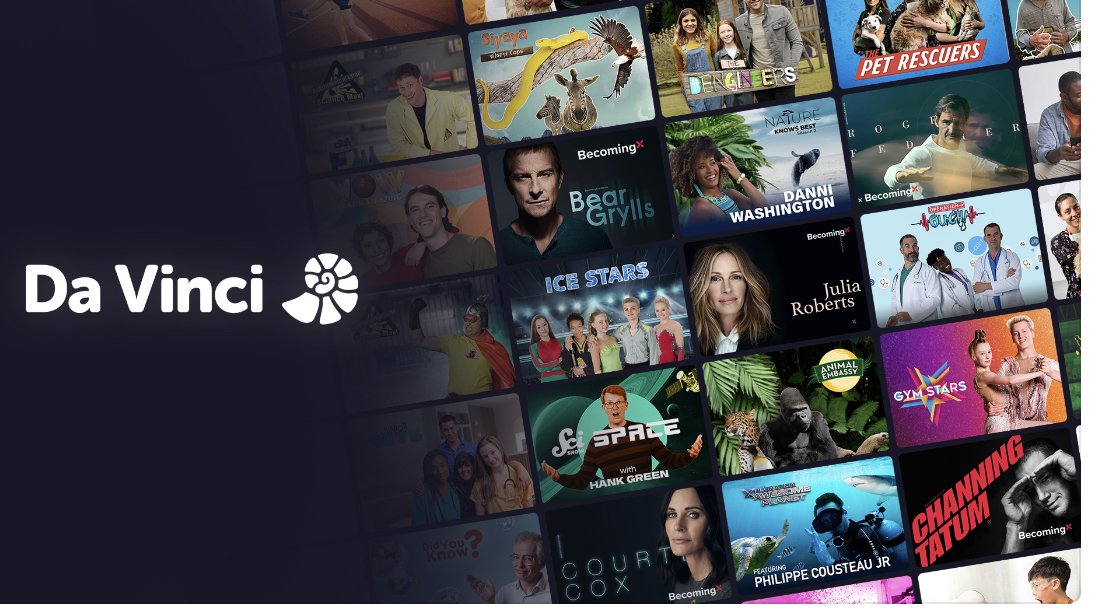 Da Vinci, the global, family-first edutainment streamer, has announced today a major expansion of its premium programming line-up, with new acquisitions from Beyond Rights – a Banijay Rights company – and Boat Rocker Media. 
The expanded slate of factual TV shows further strengthens Da Vinci's commitment to helping millennial and GenZ families learn 21st Century life skills together, build character and resilience, address life's big topics and hear inspirational stories about success. This aligns with the streamer's purpose to "create a kinder, smarter world."
The deals see more than 200 hours of popular shows launching across Da Vinci's suite of programming platforms – including Pay TV, OTT, apps and its newly launched FAST channels available on Sling TV, TCL and Rakuten TV, Netgem and LG Channels.
From Beyond Rights, Da Vinci will add a selection of engaging family series to its offer across the US, UK, Ireland, CEE and Asia*. These include inspirational teen athlete shows Gym Stars and Ice Stars, animal-enthusiast series Junior Vets, creativity-boosting The Dengineers and mind-boggling experimental series Wow That's Amazing.
Building on its aim of curating premium entertainment programming for learning lovers, that engages families on important matters in a fun, stimulating and interesting way, Da Vinci has also picked up multiple seasons of Boat Rocker Media's hit nature and sci-fi documentary titles for its platforms in the US, UK and Ireland. Among these are Xploration Awesome Planet, hosted by Philippe Cousteau Jr. grandson of the legendary underwater explorer Jacques Cousteau, Xploration DIY SCI, fronted by science experiment extraordinaire Steve Spangler, Xploration Nature Knows Best, featuring activist, artist and presenter Danni Washington, and Xploration Outer Space, hosted by former MIT engineer Emily Calandrelli.
Estelle Lloyd, founder and Chief Operating Officer of Da Vinci, says: "At Da Vinci, we're helping shape the futures of our audiences, with the support of their families. It's a role we take very seriously! We believe that what it takes to succeed and achieve your ambitions is learnable and influenced by entertainment. That's where we come in."
Luca Fiore, Da Vinci's Content Director commented: "We're constantly looking to boost our global content offer with shows that whole families can sit down together, enjoy, be inspired by and learn from. The series included in our deals with Beyond Rights and Boat Rocker Media showcase a range of important values, such as hard work, perseverance, problem-solving, respect for nature, environmentalism and innovation, that really align with our channels and what we stand for. We're excited to see these shows launch across our programming services, including our growing presence in the FAST space."
Da Vinci delivers an edutainment experience that whole families can enjoy and parents trust. Its platforms – available in 250m homes worldwide – feature popular, first-window and award-winning documentaries, series and TV shows spanning factual entertainment, scripted dramas, animation, comedy and more for learning-loving viewers, supporting the network's mission to create a smarter, kinder world.