Bulldog Licensing announces first UK deals for Bored Ape phenomenon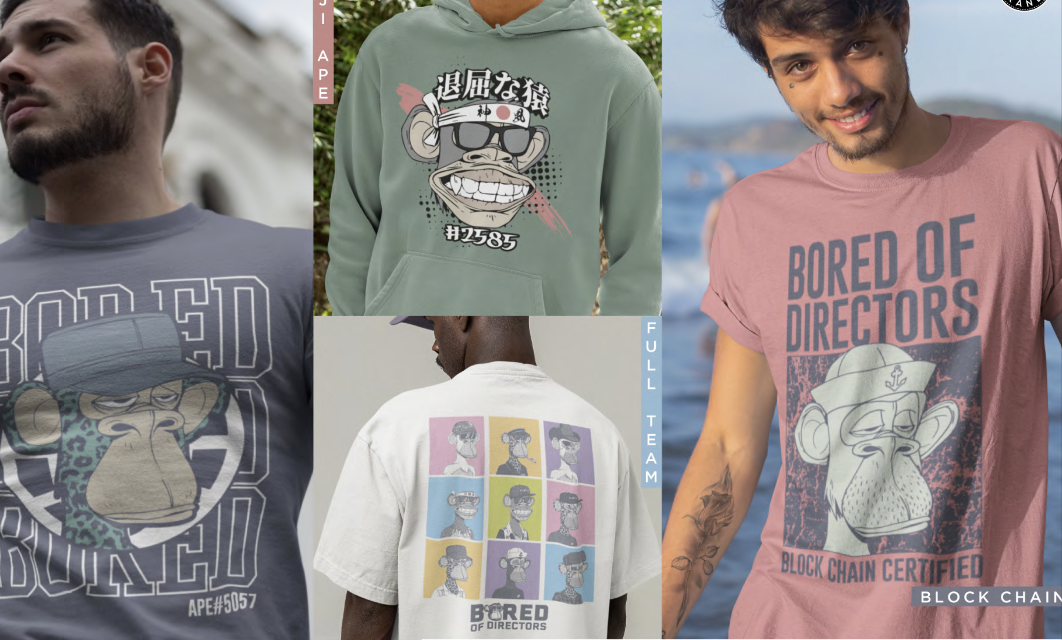 Bulldog Licensing, one of the licensing industry's leading agencies, was recently appointed to represent the Bored of Directors, the premier Bored Ape Yacht Club ("BAYC") NFT Collective, in the UK and Ireland on behalf of brand owner NFIP Holdings, LLC. Bulldog Licensing has announced the first licenses it has inked for the brand, consisting of licensed clothing specialist Poetic Brands and consumer electronic products supplier Ecell Global.
Both licensees will be using imagery that is both original and inspired by the 12 BAYC NFTs that make up the collective, a grouping of owners of animated blue-chip ape NFTs. However, these are more than just cartoons; they are Ethereum-based nonfungible tokens: unique, collectible artworks digitally certified as the property of one paying owner per illustration, which have been sold for over $3,000,000[1] at Sotheby's.
Bored of Directors brings together 12 diverse BAYC Apes, owned by like-minded and respected individual NFT owners and featuring a variety of aesthetics and personalities under one roof. The aim is to bring more BAYC owners on board as the brand grows.
Poetic Brands will be producing a range of kids' and adults' apparel including day and nightwear, as well as a gifting range with figurines, mugs, stationery and key chains. The designs will feature the iconic apes that are part of the Bored of Directors collective.
Ecell Global, which designs, manufactures and distributes unique and artistic cell phone back cases to the global market, will be producing a range of phone, tablet, laptop and game console cases and accessories. The range will be available online from autumn 2022.
The Bored of Directors licensing campaign has taken off in a meteoric fashion, inspired by the high level of awareness of the Bored Apes, which have been bought by many well-known personalities and publicised in books, TV shows, articles and social media. Not surprisingly Brand Central, the exclusive global licensing agency for Bored of Directors, recently announced it had appointed seven leading international sub-agents for the Bored Ape NFT collective, including Bulldog.
Many categories are now being targeted by Bulldog for this unique brand, taking advantage of a full style guide featuring on-trend images, personalities and graphics. They include food, beverages, beer and spirits, interactive, gaming, homewares, publishing, toys and social stationery.
NFIP Holdings, says: "We have been monitoring the demand for BAYC apes both by end consumers and the licensing community alike and knew that a well-structured packaged offering would be appealing to jumpstart the metaverse apes' plunge into the world of consumer goods. We have been careful to appoint companies that have a reputation for originality and creativity to work with the brand – and that describes Bulldog. We're delighted to be working with them."
Rob Corney, MD of Bulldog Licensing, commented: "We like to think that our success with diverse, distinctive, and highly original properties was a major factor in this appointment. We certainly see very strong opportunities for the Bored of Directors across multiple categories. We're looking forward enormously to working on this exciting brand."
---
[1] https://www.cryptotimes.io/most-expensive-bored-ape-yacht-club-nfts/