Barbie at London Fashion Week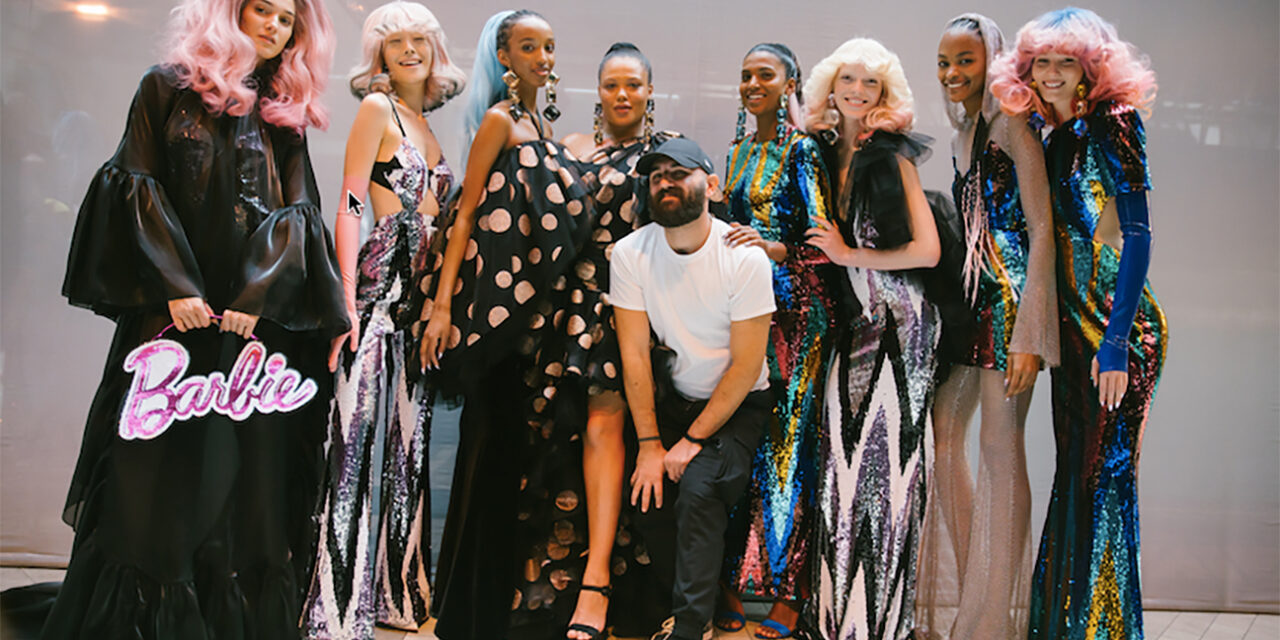 This London Fashion Week saw the iconic Barbie brand return to London Fashion Week runway in support of the Halpern show, which took place within the historic splendour of The Royal Exchange.
A brand synonymous with glamour, reimagined embellishment, and a nod to classical couture, Halpern created an immersive Barbie finale to the show comprised of bespoke catwalk looks to mark the 60th Anniversary of the Barbie Dreamhouse. A cultural institution in the fantasy world that surrounds Mattel's timeless icon, Barbie Dreamhouse represents the birthplace of any child's imagination: the home. Playing in his own house as a child, Michael Halpern used his Barbie Dreamhouse for the social scenes that already filled his mind. Here, dressed to the nines, his Barbie dolls played hostesses to fabulous house parties inspired by those thrown by his own mother in Upstate New York.
As part of his Spring/Summer 2023 Collection, Halpern has collaborated with Mattel on eight looks and accessories dedicated to Barbie and the imagination she – and her Dreamhouse – inspired in him from an early age. In Mattel's archives, the designer was given access to Barbie's wardrobes through the ages. Three motifs particularly evoked his childhood memories: the chevron pattern – a modern take on the first Barbie's original chevron swimsuit – polka dots and sunset palette intrinsically linked to Barbie's look. Interpreted in floor-length silhouettes realised in the glamorous sequins, tulles, and ruffles instinctive to the Halpern brand, the elements come to life in looks founded in the fantasy of entertaining at home. Sparked by the Barbie Dreamhouse, the idea of the house party informs the collection at large.
To celebrate the collaboration, a miniature couture was created especially for Barbie, with the doll dressed in a showstopping look taken from the runway of a black and gold polka dot tulle gown, with a wraparound Barbie logo created in gold and black.
Michael Halpern, Founder & Creative Director, Halpern, says: "Barbie and the Dreamhouse has been such an incredible fountain of inspiration for me to use for the Halpern Spring/Summer 2023 collection, and I'm delighted to have the iconic Barbie brand supported my show. This project comes full circle for me continuing my relationship having previously dressed a one-off Barbie Role Model doll in the likeness of Adwoa Aboah, as an homage to Adwoa's Halpern look where we both won our first times at the Fashion Awards. There are so many points at which Halpern and Barbie intersect with our values, inspirations, and love of fantasy which I am so thrilled to share on the runway this season. For me, Barbie is about optimism and joy for everyone, and being able to personify that exuberance through a project like this is so thrilling."
Richard Dickson, President and Chief Operating Officer, Mattel, says: "Barbie has long inspired and been an inspiration for the world's most creative and artistic talent. Fashion is part of Barbie's DNA, and the Barbie brand has never been more talked about, marking this as the perfect moment to return to London Fashion Week's runway with the incomparable Halpern. We are thrilled with Halpern's vision of the iconic Barbie doll and her Dreamhouse, which invites everyone to embrace the endless possibilities of Barbie."
In the brands 63-year history, Barbie has been as a muse to the world's leading designers, collaborating with over 75 global brands and up and coming young designers and talent.